Last week, Schulz outlined his desire to create a legal mechanism for Europe's federalization, subject to EU member approval, leading to the creation of a 'United States of Europe' by the year 2025. According to the politician, any country opposed to the idea would be free to exit the supranational bloc.
Speaking to Sputnik Czech, Premysl Votava, deputy chairman of the Czech National Social Party, a left civic nationalist and soft Eurosceptical party, said that while Schulz's proposal was absurd, it was by no means accidental.
"It turns out that one of the countries of the European Union, and one which from the economic point of view is the strongest, wants to determine how the EU will look within the next few years. This looks like a return to the time of the dictate, when small states have to submit to the interests of stronger states," the politician warned.
© REUTERS / Fabrizio Bensch
Social Democratic Party (SPD) leader Martin Schulz gestures during an SPD party convention in Berlin, Germany, December 7, 2017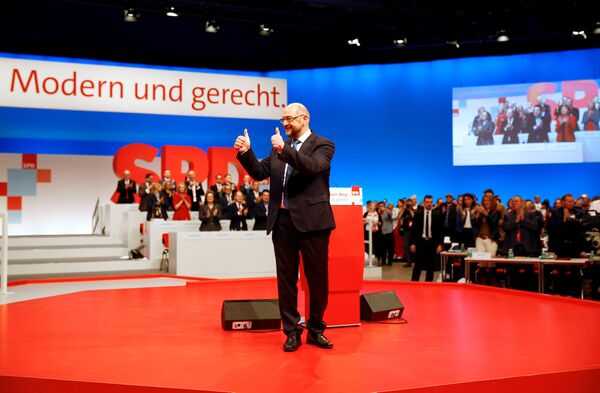 Social Democratic Party (SPD) leader Martin Schulz gestures during an SPD party convention in Berlin, Germany, December 7, 2017
"And I think this is an attempt to punish countries, first and foremost the countries of Eastern Europe, for their divergent positions on issues like migrant quotas. On this issue, Mr. Schulz would like to arrange a German dictate in Europe. I do not think that even anyone in his parliament will support him," he added. 
I want a new constitutional treaty to establish the United States of Europe. A Europe that is no threat to its member states, but a beneficial addition.

— Martin Schulz (@MartinSchulz) December 7, 2017
Stressing that his party is firmly opposed to the idea of a 'USE', Votava explained that a federalist Europe would violate the basic principles of sovereignty.
"This would be interference in the sovereign affairs of these countries. The next step would be to subordinate smaller states to Germany and France. I'm talking specifically about the countries of Eastern Europe: Poland, the Czech Republic, Hungary…There is an obvious desire to punish these countries because they hold a different opinion. Mr. Schultz wants to punish them for behaving differently to how Germany or the stronger part of the EU would like."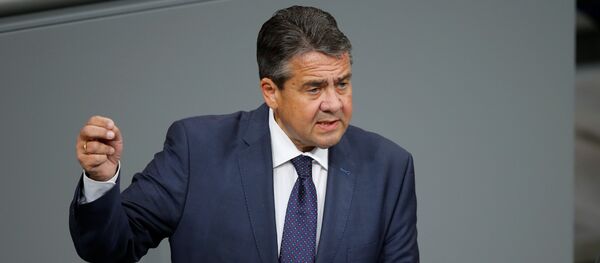 11 December 2017, 16:40 GMT
Asked about a possible alternative future legal status of the EU and its members, Votava suggested that Brussels would be wise to listen to the views of its newer members. "Returning to the issue of migrant quotas: Here we can see that the authority of these countries should include the ability to decide who to let in, and who not to. This is obvious! We are being sent thousands of migrants, who were attracted to Europe by Mrs. Merkel, and have to suffer due to those who we did not even want to see. Thank God that Eastern Europe does not yet face the kinds of problems caused by economic refugees that are affecting Germany, the Netherlands or the UK."
Ultimately, Votava stressed that European structures should grant more sovereignty for individual member states. "It's obvious that economic indicators speak in favor of our membership in the EU, but sovereignty must be preserved, certainly! We entered the EU as a sovereign state, and we should continue to behave as such. Unfortunately, some of our politicians are too loyal to Germany and France, and in general toward the EU's stronger states, which, of course, contradicts the interests of the Czech Republic."
Schulz made the proposal for a United States of Europe before delegates at an SPD Party conference in Berlin last week. According to the politician, political leaders must find "the courage to move Europe forward." Schulz's proposal, broadly criticized by CDU leaders, was defended this week by German foreign minister Sigmar Gabriel. According to Gabriel a "changing world" means that "if we do not stand together, then our children will have no voice" on the international stage.
The views and opinions expressed by Premysl Votava are those of the expert and do not necessarily reflect those of Sputnik.