New Delhi (Sputnik) — In the first parliamentary elections that marked Nepal's complete transition to a parliamentary federal democracy, the public has voted largely in favor of the left-wing alliance between the Communist Party of Nepal — Unified Marxist Leninist (CPN-UML) and the Communist Party of Nepal — Maoist (CPN-Maoist). Though the results have yet to be formally declared, the election commission has revealed that the communist alliance has garnered at least two-thirds of the seats in the federal assembly. Given the alliance's recent warming up to China, it is being assumed that the election results would cause India-Nepal relations to hit a hurdle.
READ MORE: India, China Keep Fingers Crossed as Nepal Elects First Democratic Government
However, some analysts are of the view that despite his anti-India tone during election campaigning, K. P. Sharma Oli,who is poised to become PM, will strive towards maintaining a fine balance between India and China as Nepal has always been doing.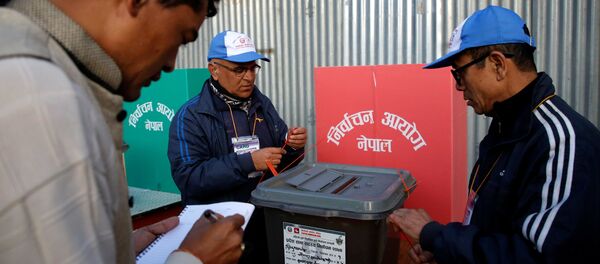 28 November 2017, 16:45 GMT
Sputnik talked to senior foreign relation analyst Dr. Pramod Jaiswal on the rise of the Left alliance in Nepal and its implications for India. Dr. Pramod Jaiswal is a Senior Fellow with Institute of Peace and Conflict Studies, New Delhi as well as with the Pangoal Institution in Beijing. 
Sputnik: What has been the driving force behind the rise of the communists in Nepal?
Dr. Pramod Jaiswal: There were numerous reasons. Foremost among them was the unity between the two major left parties, the CPN-UML and the CPN-Maoist, which were the second and third largest forces in the parliament. Second, they were able to come with a united manifesto promising the people political stability and development. To a country like Nepal, where there were ten prime ministers in ten years, it was most appealing. The third was the nationalist image of KP Sharma Oli, the chairman of UML, among the majority voters in the hilly region. The fourth was the precise calculation in candidate allocation and election management by the left-wing alliance. And fifth was the poor leadership of the Nepali Congress. 
Sputnik: Do you think it's an end of the road for the Nepali Congress?    
Dr. Pramod Jaiswal: It is too early to call it an end of Congress. However, if the left-wing parties are united and work together and deliver political stability and development, they can easily sustain in power for 2-3 terms, that are 10-15 years. However, the history of left-wing parties in Nepal is gloomy. They have undergone several splits in the past.
Sputnik: What are the implications for India?
Dr. Pramod Jaiswal: Though K.P. Sharma Oli of CPN-UML is seen as pro-China and anti-India, I think he would work hard to change that image. Once he would come to power, he would try to take India into confidence, improve relations and assure India that his government would not make any decisions that would affect India's core interest; that is security. He would be careful while implementing Chinese projects under the Belt and Road Initiative because any Chinese project that can hurt India's core security interest would have a deep bearing impact on Nepal-India relations. Similarly, India should also try to improve relations with the left parties and allow Chinese projects that can bring development in Nepal, unless it hurts India's interest. 
​Sputnik: Do you think Nepal is going away from India? Is it inching closer to China?
 Dr. Pramod Jaiswal: Nepal is not going away from India. The relations between India and Nepal are quite special and unique. No country in the world has such relations. Both the countries are closely intertwined. They share common languages; culture, customs, history, family to family relations and the economy of both the countries are inter-connected. However, China has extended its reach around the world. It has also improved its engagement beyond the Himalayas. With China's ambitious Belt and Road Initiative, it is reaching to each and every country of the world; hence Nepal can't miss out. China also has security concerns in Nepal. Thus, although Nepal is getting closer to China for its economic development, Nepal still maintains very cordial ties with India on all aspects, be they political, economic, social or others.