ROME (Sputnik) — Italy plans to decrease its military presence in Iraq in the light of the victory over Daesh, as well as in Afghanistan, and wants to start a new military mission in Niger, Italian Defense Minister Roberta Pinotti said.
"I can say with satisfaction that one of the goals has been achieved — IS (Daesh) was defeated in Syria and Iraq — the country, where we had a strong military presence with about 1,500 servicemen. We intend to scale down our presence by half, by reducing the contingent helping to protect the Mosul dam," Pinotti told La Republica newspaper in an interview published on Sunday.
Rome also intends to decrease its military presence in Afghanistan by 900 servicemen and has already informed its allies within the international military mission in this country about that, according to the minister.
At the same time, Pinotti announced the imminent start of a new military mission in Niger.
"Our principle is that the armed forces must deal with threats related to the country. I believe that it would be important to review the missions in order to prevent a direct effect in the zone, which we call the 'extended Mediterranean.' The operation in Niger is the fruit of such a strategy," Pinotti explained.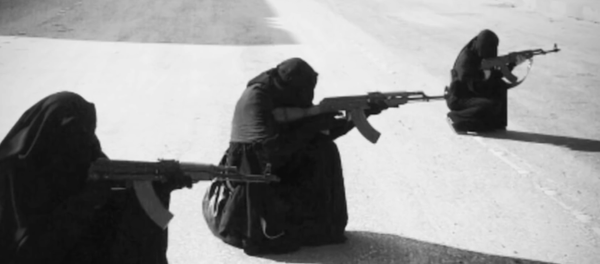 15 December 2017, 18:26 GMT
The minister noted that with the support of the United Nations and the European Union, special forces were being created with the participation of five African states in the Sahel region.
"This territory has a fundamental importance for us, both in terms of fight against terrorism and fight against the criminal network that controls illegal migration," Pinotti stressed.
Since 2015, Europe has been experiencing its worst migration crisis in recent history, struggling to accommodate hundreds of thousands of refugees and migrants fleeing hostilities in the Middle Eastern and North African countries. The refugees mainly arrive in Greece and Italy as they use illegal ship transportation via Mediterranean Sea.