Taiwan has sent aircraft and ships to "monitor and deal with" a Chinese mainland Yun-8 transport plane that has conducted a long-haul flight through the Bashi Channel and Miyako waterway after which it returned to its base, according to the island's Defense Minister Feng Shih-kuan.
While not providing futher details, Feng emphasized that the public shouldn't be alarmed.
The announcement comes in the wake of tensions over Taiwan as Beijing has accused Washington of meddling in its internal affairs after President Donald Trump signed the National Defense Authorization Act into law earlier this week, which laid the grounds for future mutual naval visits between Taiwan and the United States.
Beijing slammed the Trump administration's move as a violation of the so-called "One-China" policy, which implies that the US should have formal ties with mainland China rather than with the "breakaway province," and warned Taipei against relying on foreign powers for its security.
READ MORE: Beijing Bombers, Fighter Jets Encircle Taiwan in Drill
Separately, China Daily reported on Monday that a group of People's Liberation Army Air Force bombers accompanied by fighter jets conducted drills around Taiwan on Monday, "further improving their ability to protect national sovereignty and territorial integrity."
Prior to his inauguration, Trump received a call from Taiwan's Tsai Ing-wen, becoming the first US president or president-elect to speak with the island's leader since Washington had severed ties with Taiwan in 1979. However, in his first telephone conversation with his Chinese counterpart Xi Jinping, Trump said that Washington planned to stick to the "One China" policy after telling media that he hadn't been fully committed to it.
READ MORE: Chinese Diplomat: Expect War if US Sends Navy Ships to Taiwan
While the United States, along with many other countries, does not recognize Taiwan as a sovereign nation and officially adheres to the "One China" position, but has kept informal relations with it. The Trump administration has been strengthening its ties with the island.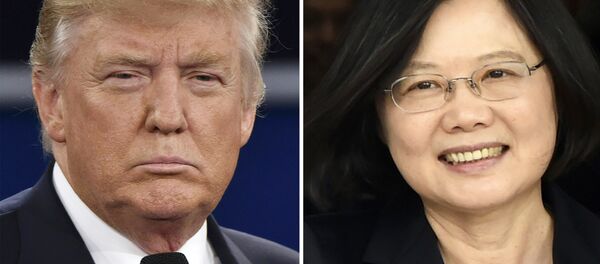 14 January 2017, 04:53 GMT
While formally, the People's Republic of China and Taiwan, officially known as the Republic of China, remain a single country as each considers the other as "renegade provinces," Beijing has repeatedly called it "the most sensitive issue" in its relationships with the United States.
Beijing reportedly suspects that Taiwanese President Tsai Ing-wen, who leads the pro-independence Democratic Progressive Party, may call for a full-fledged referendum next year.