MOSCOW (Sputnik), Tommy Yang — Severe natural gas shortage in North China this winter, following Chinese authorities' ambitious campaign to convert the nation's reliance on coal for heating toward natural gas, could present a good opportunity for Russian liquefied natural gas (LNG) in the Chinese market, experts told Sputnik.
To get rid of the heavy smog that engulfs most cities in North China, especially during the winter heating season, Chinese authorities launched a pilot program last March, requiring 28 cities in North China to convert heating systems powered by coal to natural gas.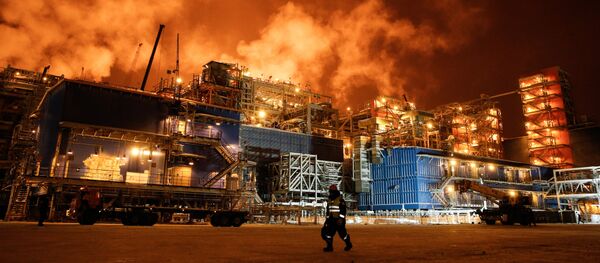 14 December 2017, 03:30 GMT
However, when heating season in North China kicked off in mid-November, millions of households and public facilities including hospitals and elementary schools, in those 28 cities were left without heating. The coal-to-gas conversion campaign had to face the reality of under developed gas transport systems and natural gas shortage, as authorities are struggling to secure additional gas supplies to support the newly installed gas-powered heating systems.
China's Ministry of Environmental Protection issued an emergency notice last week, urging local authorities to ensure functional heating systems for residents in the 28 affected cities, even went as far as reversing the program and allowing coal-powered systems to be utilized to make up for the gas shortage.
In Beijing, where local authorities announced that the city's heating system became "coal-free" in early November, a coal-powered emergency heating system was allowed to be turned on to deal with the gas shortage in the region.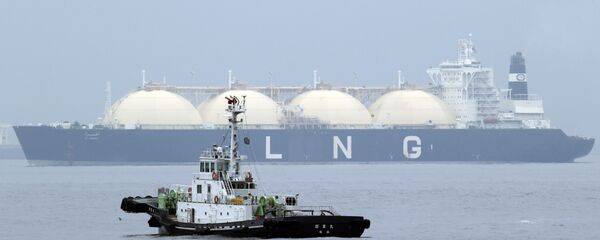 28 November 2017, 16:41 GMT
The recently re-utilized coal-powered heating systems could offer 10 million cubic meters (about 353 million cubic feet) of natural gas daily, Meng Wei, spokesperson of the National Development and Reform Commission (NDRC), the nation's economic planning agency, said during a regular press briefing Monday.
According to Meng, China's natural gas consumption jumped 18.9 percent from a year ago, to 209.7 billion cubic meters (about 7,402 billion cubic feet) in the first 11 months of this year. During the same period, China's natural gas imports skyrocketed 28.9 percent from the previous year to 81.7 billion cubic meters.
Shorter Shipping Distance
China's growing demand for natural gas could provide a great opportunity for LNG produced in Russia, such as the newly completed Yamal LNG project, thanks to its close proximity to China, industry analysts told Sputnik.
"In terms of shipping distance, LNG produced in Russia has a competitive advantage. For example, it takes about two months for US LNG to be shipping to China. LNG produced in Australia needs at least 40 days to reach China. Russian LNG could reach China within one month, through the Southeast Asia shipping route. Shorter distance can also translate into cheaper shipping cost," Li Lingxuan, an oil and gas markets analyst at Shandong-based industry researcher SCI99, told Sputnik.
The Yamal LNG project, in which China National Petroleum Corporation (CNPC) holds 20 percent stake, is expected to supply one third of its annual output capacity of 16.5 million tonnes of natural gas to China, when the project is fully completed. Russian President Vladimir Putin attended the ceremony of the first LNG shipment from the Yamal project earlier in December.
Li estimates that China faces a gap of about 11.3 billion cubic meters in natural gas supply.
"Without a question, China's demand for natural gas will continue to rise. China's natural gas consumption is expected to top 355 billion cubic meters by 2020. We're standing at around 200 billion cubic meters [annually] currently. There's still a lot of room for growth," Li said.
The analyst pointed out that Russian natural gas supplied to China through pipelines does not enjoy this kind of competitive advantage as Russian LNG, because the prices are higher than natural gas supplies through pipelines from Central Asian countries.
"Prices of natural gas from Central Asian countries stood at around 1.26 renminbi [$0.19] per cubic meter. The price for Russian natural gas to CNPC is definitely higher than that, although I cannot tell you how much higher because CNPC would like to keep it a secret," Li said.
In 2014, Russian oil giant Gazprom signed a 30-year framework agreement with CNPC for annual deliveries of 38 billion cubic meters of Russian gas through the eastern route pipeline, formally known as the Power of Siberia.
READ MORE: Qatar Offers Russia to Take Part in Projects on LNG Production — Gazprom
Gazprom has completed about 680 miles, or 50.7 percent, of the Power of Siberia gas pipeline, according to a company statement released in October. Gazprom and CNPC reached an agreement in July to start gas supply through the Power of Siberia on December 20, 2019.
Vigorous 'Clean Air' Campaign
Serious air pollution has become a major concern among Chinese public as most of the cities in North China are covered in heavy smog, especially during the winter heating season. Chinese authorities have shown strong commitment to solving the air pollution problem, which is viewed as a serious challenge to the ruling Communist Party's legitimacy.
The recent coal-to-gas conversion campaign seemed to have contributed to greatly improved air quality in North China, especially in the capital city of Beijing. According to official figures from China's Ministry of Environmental Protection, average air pollution in the 28 cities where the campaign took place dropped by 37 percent in November from a year ago. The average air pollution in Beijing in November fell by 54 percent from the previous year.
However, the overly assertive "clean air" campaign looks to be the leading contributor to the recent gas shortage in North China.
"The government's campaign of coal-to-gas conversion is one of the main reasons that led to the recent natural gas shortage, because when demand suddenly rises and our supply couldn't keep up, a gas shortage would naturally occur. It's one of the triggers. The intention of the coal-to-gas conversion campaign is definitely not wrong. It's more about whether the campaign's progress matched with the supply and demand situation of the natural gas market in China. It's about finding a balance," Li Li, the research director on oil and gas markets with ICIS, a leading intelligence provider for the global petrochemicals and energy markets, in Guangzhou in Southern China, told Sputnik.
The Guangzhou-based analyst suggested that additional infrastructure is needed for the campaign to be successful.
"For the coal-to-gas conversion campaign to be successful, we need matching infrastructure, sufficient sources of gas supply and adequate gas storage facilities. It looks like we're still under-prepared. Once the demand rose sharply, especially during the seasonal peak in the winter, the problems would be exposed," she said.
Moderate Russian Gas Export to China
Russia is one of the world's largest natural gas producers and exporters. But despite strengthened political partnership between Russia and China in recent years, natural gas export from Moscow to Beijing stayed at moderate levels.
According to Gao Feng, a spokesperson of China's Ministry of Commerce, Russian natural gas export to China stood at 384,000 cubic meters in the first 11 months of this year, account for merely 0.63 percent of China's total natural gas imports during the same period.
Chinese industry analysts suggested that market demand dictated China's appetite for Russian natural gas, until now.
"Previously, China's natural gas import has been pretty open and the government did not set a lot of barriers. Gas imports were not in high demand, as domestic production was able to meet demands. When demand started to grow in recent years, we understood that gas imports have become inevitable," Li from ICIS said.
The industry analyst pointed out that when China first started gas imports in 2004-2005 in the southern Guangdong province, the primary reason was that LNG imports were cheaper than building gas pipelines from production bases in west or northeast of China. But she believes LNG import terminals will be installed along most of the Southeast China's coastlines in the future.
READ MORE: India Set to Renegotiate LNG Rates with Russia
However, Chinese scholars warned that increased domestic demand for natural gas may not guarantee additional imports from Russia, as China has many options when it comes to natural gas supply.
"The source of China's natural gas supply has expanded very fast in recent years. For example, during Trump's first visit to Beijing, he signed deals to allow exports of US natural gas from Alaska to China. At the same time, China also discovered new shell gas reserves in western regions, such as the Tarim Basin, which reportedly could support the nation's gas supply for 200 years. China has a lot of choices when it comes to natural gas supplies. China is not overly concerned about natural gas supply from Russia," Zhang Lihua, a professor at the Department of International Relations at Tsinghua University and a resident scholar at the Carnegie–Tsinghua Center for Global Policy, told Sputnik.
The Chinese scholar believes Russia's current meager natural gas supply to China is a result of Moscow not willing to fully open its natural gas market to Beijing due to strategic and national security concerns.
But Li, the industry analyst from SCI99, argued that market conditions such as higher gas price in the European market were the main reason Russia has not prioritized China as one of the primary natural gas export destinations.
The views and opinions expressed by Li Lingxuan, Li Li and Zhang Lihua are those of the experts and do not necessarily reflect those of Sputnik.