Unidentified aerial objects claimed to have been spotted by a number of pilots and other military staffers in the 2000s appeared to be technically surpassing anything in American or foreign arsenals, at times even revoking the laws of thermodynamics.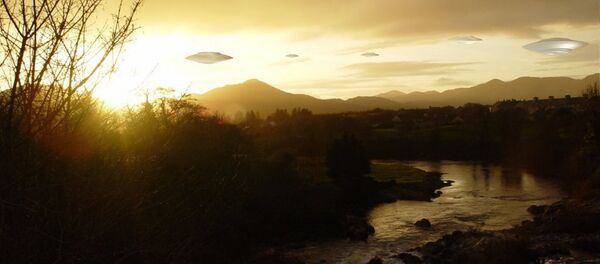 18 December 2017, 11:13 GMT
One possible theory behind the bizarre encounters is the foreign track: some officials say certain world powers, e.g., China or Russia, might have developed revolutionary supersonic aircraft or other technologies posing grave dangers to US defense.
The internet community has been set ablaze with the news, with speculations arising over recent failures by the US defense sector, as well as blemishes in US social policies:
Other commentators on the Daily Mail news page ironically remarked that alien contact reports will surely prepare the ground for some upcoming revelations, or may perhaps simply distract the public's attention:
"They seem to be getting the public ready for some 'Big Reveal'…. Factual or Fabricated. Watch this space," wrote Sir Sidney R-D from the UK.
Some were frustrated with people indulging in conspiracy theories:
"Some people have too much time on their hands, should get back to work and pay taxes," one of the Daily Mail commentators noted.
"These sightings seem to always happen near USA installations, we never hear of similar sightings etc. coming from China or Russia, I wonder why aliens favor the Yanks," wrote another user, his cheeky comment supported by another one, recalling that in mainstream cinema productions "aliens speak English":
"Because all aliens only talk English like in the brainwashing Hollywood movies…"
An array of comments were centered around Luis Elizondo, the key figure in the uncovered UFO project. One of the readers even pointed to his, as he thought, conformist nature:
"I believe we have, but someone's opinion is not proof. People like him toe the line when they are employed by the government and then come out afterwards making claims when they have a book to sell," shared PrincePhilip, an internet user.
Many Twitterians are meanwhile into tongue-in-cheek debates over which public figures may be pegged "freaky," apparently with reference to Elizondo's recent claims that "we may not be alone":
Some satirically noted that the counter-UFO operation footage recently unveiled by the Pentagon is too blurry, given the staggering millions of taxpayers' dollars spent on it:
According to media reports, the Advanced Aviation Threat Identification Program was initiated by then-Senate majority leader Harry Reid and cost American taxpayers around $22 million, until it was halted in 2012.
READ MORE: Close Encounters: Pentagon Pulls Plug on Secret UFO Program