Sputnik: Dr. Gauweiler, what kind of a government do you think we will see next year and what particular makeup would you prefer?
Peter Gauweiler: I have always been a supporter of a large coalition, because when active representatives of both sides are united, a number of things can be achieved when the "black" (CDU/CSU) and "red" (SPD) groups do not oppose each other. But when lethargy reigns on both sides, then, of course, everything will be gloomy, and nothing will move forward. Sputnik: Do you believe that the SPD should join a Grand Coalition?
Peter Gauweiler: The SPD has the same problem as the CDU and CSU, which gives the impression that the losers have come to power.
Sputnik: Is the Chancellor a loser too?
Peter Gauweiler: Everyone knows that the big parties in the elections to the Bundestag suffered a crushing defeat. This, of course, applies to their leading candidates. If they had won, they would have crowned themselves as winners.
Sputnik: Do you think the Chancellor will keep clinging to power, or could she really quit?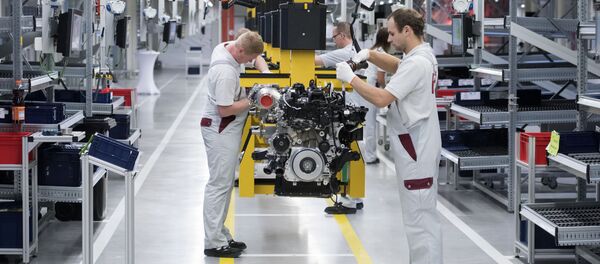 24 November 2017, 01:49 GMT
Peter Gauweiler: She would clearly like to hold on. However,  since politics is not only about clinging to your job, but also about choosing a direction and determining the interests of the state, then with regard to the crucial issues we all care about, a clear-cut course must be set.
Sputnik: What is more important for the CSU now – Bavaria or Berlin? 
Peter Gauweiler: Unlike all other parties, the  CSU is a political structure, whose claims to power do not cover the whole country. Its focus is on Bavaria and its role, as well as on the interests of the Bavarian population.
Sputnik: It still believes that securing several ministerial posts in Berlin is important, does it not?
Peter Gauweiler: It is certainly important for us to work in certain areas we believe are necessary and important as part of a union of German regions, which Bavaria once joined.
Sputnik: As before, migration policy remains the main stumbling block and a decisive issue for voters. Do you think it needs some adjustment?
© AP Photo / Matthias Schrader
(File) Peter Gauweiler of the German Christian Social Union party, CSU, and member of the German parliament looks on during his speech at a party convention of the German Christian Social Union, CSU, in Nuremberg, southern Germany, on Friday, Oct. 7, 2011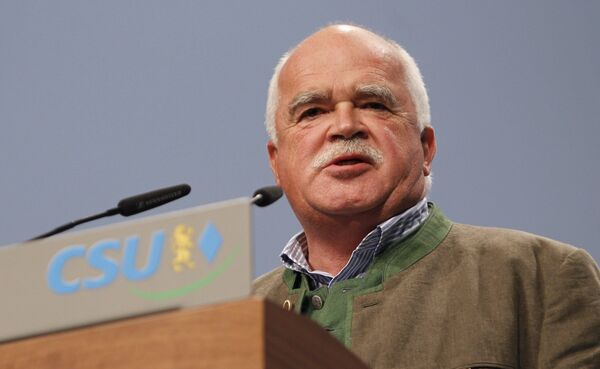 (File) Peter Gauweiler of the German Christian Social Union party, CSU, and member of the German parliament looks on during his speech at a party convention of the German Christian Social Union, CSU, in Nuremberg, southern Germany, on Friday, Oct. 7, 2011
© AP Photo / Matthias Schrader
Peter Gauweiler: Our main concerns are the issue of open borders, and how to deal with those who have already arrived here over the past year and a half, how to save the euro, participation in military operations abroad in defense of our so-called "values" and the anti-Russian sanctions. These are the four issues the new government needs to focus on.
Sputnik: The Bundestag was so quick to green light overseas [military] operations…
Peter Gauweiler: They were approved, but only for three months. The Bundestag made it clear that the new government had returned to the "forward" field, like in the Monopoly game.
Sputnik: You mentioned saving the euro. Is this still a big priority now?
Peter Gauweiler: Saving the euro is a central issue. I want to remind you that in August, the Federal Constitutional Court regarded the European Central Bank's so-called Quantitative Easing Program, under which 60 billion euros' worth of bonds were bought each month to a total tune of over 2 trillion euros, as being at variance with the principles of separation of powers and democracy enshrined in the constitution.
Therefore, it was submitted to the European Court of Justice. Right now, the European Court is considering the positions of all Eurozone countries regarding this initiative by the Federal Constitutional Court, mainly the position of Germany. The Bundestag and the new federal government should speak up on this issue.
Sputnik: Sometimes it seems that politicians do whatever they please without asking the people. Small wonder then that right-wing populists and others prefer direct national referendums.
Peter Gauweiler: This is not a question of right-wing or left-wing populists. Sometimes it seems to me that politicians do not do what they want, do not do anything at all, that nothing happens at all, and that it's only done to make people believe that something is going on, while everything is moving in circles. A popular vote is not about populism. "Populist" and "popular" are not the same things; it is up to the people to decide and this is how the Federal Constitutional Court clearly defined this in its decision on the Lisbon Treaty.
Sputnik: Moving on to foreign policy, who exactly would you like to see as the new foreign minister?
Peter Gauweiler:  A good question. I liked Steinmeier, but I would really like to see the SPD and CSU breaking through,  because, unlike the SDU, they spoke out against boycotting Russia. I would also like the CSU, which objected to President Joachim Gauck's stated support for military interventions abroad during the Munich Security Conference held a few years ago, to outline their position more clearly.
Sputnik: In his new security concept President Trump named China and Russia as its main adversaries. Have you noticed any geopolitical shifts happening now?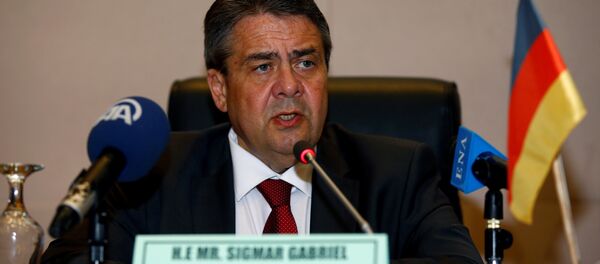 17 August 2017, 03:33 GMT
Peter Gauweiler: Controversial as he may be, I still gave him a good mark for his election campaign promise to end America's role as an eternal world policeman. Now he is doing exactly the opposite on many tracks and this is really upsetting me.
Sputnik: And Russians are always the scapegoats…
Peter Gauweiler: We shouldn't make Russians feel this way. I think that Russia plays an important role. And we shouldn't treat Russia more badly that we did during the Brezhnev era. Russia experienced an incredible recovery. Anyone going to Moscow these days will see a classy, prosperous and wonderful city.
Sputnik: How dangerous are the curent tensions between the West, NATO, the US and Russia?
Peter Gauweiler: Being a supporter of straight talking, I do not like this verbal escalation. Neither do I like mutual games of military interventions. I believe that the statesmen on both sides are in a situation of "sleepwalking" — a term from the period before the outbreak of WWI.
Everyone is puffing out his chest unaware of what this may lead to. They are in a state of trance and all I want to tell them is "wake up!" 
Russia should be involved in European structures. The sanctions imposed on Russia are stupid and must end now. And, of course, there should be close cooperation between the US and Russia.

Sputnik: What is the role Germany can and should play in its relations with Russia?
Peter Gauweiler: Former Federal President Weizsacker once said that we are the east of the West and vice versa. Because of its geographical position, Germany plays the role of an intermediary. The center between the Atlantic and the Urals lies between Berlin and Warsaw. We need to always be on our guard so that the boat does not tip over. People like me, born in 1949, never dared to hope that someday the Iron Curtain would fall, that the Red Army would leave Germany peacefully and that the German economy would ever get such great chances in Russia and the other way round. And that we, in Bavaria would be happy to welcome Russians who come to shop here.
Sputnik: Most of those who criticize Russia believe that without Putin things would be going better…
Peter Gauweiler: I like Putin, I would have voted for him.
READ MORE: Germany Hopes for 'New Beginning' After Putin-Trump Summit — Sigmar Gabriel