On December 21, a snap parliamentary election took place in Catalonia. In spite of the fact that the pro-unity Citizens (Ciudadanos) political party came first, becoming the biggest single group in the regional parliament, Catalonia's pro-independence bloc, consisting of three political parties, got an absolute majority, winning 70 seats. Together for Catalonia (JuntsxCat), one of the bloc's parties believes that its leader Puigdemont could be elected the head of the Catalonia government, the Generalitat, even while staying abroad.
"It is absurd to intend to become the head of the Generalitat while living abroad. It is even more absurd to try to be the head of the Generalitat when being abroad. Imagine if I were in Lisbon. In my view, it makes no sense. This is not a legal or political issue," Rajoy told a press conference.
Catalonia held its independence referendum on October 1. The majority of those who participated in the referendum voted in favor of the region's independence. The vote has not been recognized by Spain's central government.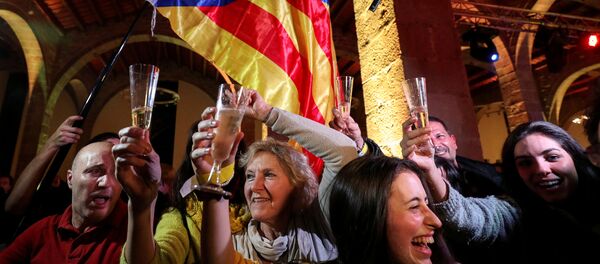 25 December 2017, 10:17 GMT
On October 27, the Catalan government adopted a resolution on the region's independence from Spain. The Spanish Parliament's upper house, in response, voted to invoke Article 155 of the Spanish Constitution, introducing Madrid's direct governance over Catalonia. The same day, Rajoy dismissed the Catalan government and its head, dissolved the Catalan government and called a snap parliamentary election. The Spanish Court then issued a national arrest warrant for Puigdemont and four ex-ministers, who are currently in Belgium.