Four men in diving gear surfaced with a big catch: an unmanned underwater vehicle (UUV) with the codename "Smokey" printed on the vessel's main body. The REMUS 600 espionage device was in use by the Saudi Arabia-led coalition against Houthi fighters in Yemen before Houthi navy service members captured the drone at some point over the last week, AMN News reported, citing Houthi media.
The UUV features Hydroid and Kongsberg logos, the companies producing REMUS 600. The vessel was a "passive system being operated by the [US] Navy as part of a meteorological study," USNI News reported Tuesday, citing a US defense official.
The REMUS 600 "might be the most advanced UUV deployed," said Dan Gettinger, co-director of the Center for the Study of the Drone at Bard College, in an interview with USNI News. The vessel "is intended to operate in shallow waters, intended to operate in littoral space, and designed to be pretty autonomous," Gettinger noted.
Military applications for REMUS 600 include area search, mine countermeasures, hydrographic survey and intelligence surveillance and reconnaissance (ISR), according to Kongsberg. The vessel can also be deployed for marine research and commercial applications, the Norwegian firm states on its website.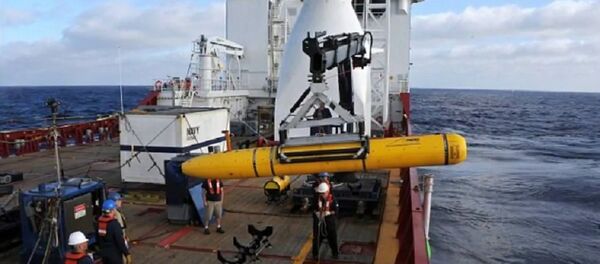 19 December 2016, 22:08 GMT
The military UUV produced by Kongsberg is gray in color while the marine research and commercial UUVs are yellow. The captured UUV is yellow, suggesting that it was likely doing some type of maritime research for the US Navy.
A UUV can deploy from a vessel as small as a patrol boat and resurfaces after about 20 hours due to limited power. The UUV might have fallen into the hands of the Houthi navy after its underwater mission ended and before a US or Saudi-coalition ship had time to recover the UUV, Gettiner said.
Taking enemy UUVs is likely to become a more common phenomenon in the future as UUVs become more prevalent.
"Underwater drones are not as frequently spoken about as [unmanned aerial vehicles]. But there's a recognition, particularly in China and Russia, these will be part of a future fleet," Gettinger noted.