Having conducted in-depth interviews with 55 children and adolescents aged 12-25 who either left Sweden to join a terrorist group or otherwise mingle with extremist circles, the Children's Ombudsman's office (BO) has released a report identifying the roots of the ongoing radicalization process.
When everyday life is plagued by violence, hopelessness and crime, and removing the destructive element seems completely impossible, in some cases an even more extreme lifestyle, that of a terrorist, becomes more appealing, the BO found.
"Living with violence and crime are definitely the key causes. However, exclusion, racism and the lack of confidence in the future, the way it appears in their own families, are other reasons why children and young people get radicalized," acting Children's Ombudsperson Anna Karin Hildingson Boqvist told national broadcaster SVT.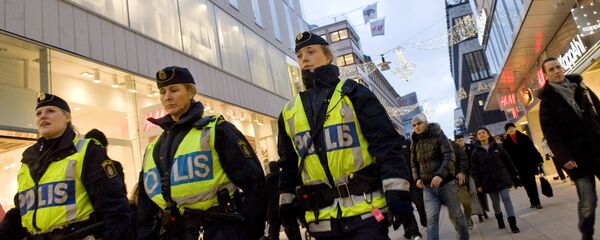 The children featured in the report described shootings, car arsons, drug trafficking and gangland violence as everyday occurrences. In many cases, living in an extreme reality leads to extreme solutions, the BO stated.
When children and young people described why they had made the extreme choice to join a terrorist group, the most common response was that there was no other option.
"It's not about dreaming of dying for a certain God, but rather about a desperation based on the desire to go away from the reality they live in at all costs," the BO stated in its report.
The report highlighted the desperation stemming from the inability to fit in, in Swedish society, with calls from Islamist groups becoming all the more alluring.
READ MORE: 'Elevated Risk' of Islamist Terror, as Jihadis 'Operate Freely' in Sweden
"Many children are home-bound and have no friends. Then you go online and watch some videos, propaganda videos that is. They show happy pictures from Syria and Iraq, and then you think 'Okay, I have no friends here in Sweden, but there I do get it all.' It's only natural you go down there. Here in Sweden, there is nothing," an anonymous teenager-turned-terrorist said, describing his feelings to SVT.
Additionally, the report found a lack of communication platforms with adults. All the children featured in the report claimed that neither school staff, nor the social services or imams would listen to them.
"The lives of these children are characterized by violence and we do not take it seriously," the BO stated, encouraging schools and social services to do more.

15 December 2017, 07:38 GMT
A 2017 report by the Security Police SÄPO identified some 2,000 Islamist extremists in Sweden, an almost ten-fold increase over only a few years. In recent years, Sweden also emerged as one of the largest "exporters" of militant extremists per capita, having generated some 300 jihadists to the Middle East.
The Swedish authorities have also repeatedly rang the alarm bells over rampant extremism in burgeoning blighted areas, which are in effect ghettos rife with violent crime and were police are virtually absent. A recent 2017 count identified 65 such "no-go zones," a term the Swedish authorities shy away from, preferring to call them "vulnerable areas."