Military Action
During the fourth day of Ankara's military operation, Turkish Air Forces continued making airstrikes on Kurdish forces' positions in the Syrian town of Rajo, near the border with Turkey, according to the Sputnik Türkiye correspondent. Turkish tanks and artillery near the Afrin border were also pounding Kurdish positions.
Turkish armed forces and FSA units stationed to the west of the city of Azaz were shelling Kurdish forces. There were also clashes between Kurdish forces and Turkish military near the town of Gülbaba.
Meanwhile, Turkish Armed Forces continue to move military hardware to the Afrin area through Öncüpınar checkpoint in Kilis.
Al-Mayadin television reported Tuesday that Turkish artillery had shelled the Kurdish village of al-Hilalia, near the city of Qamishli along the Syrian-Turkish border. Other reports suggested that Qamishli itself, as well as other towns in the area were also targeted. No immediate reports on casualties or damage were reported. 
The Kurdish YPG militia also said Tuesday that three people had been killed in shelling in the town of Ras al-Ayn, some 300 km east of Afrin region. The militia, one of the militia groups making up the Syrian Democratic Forces (SDF), could not confirm whether the casualties were civilian or military.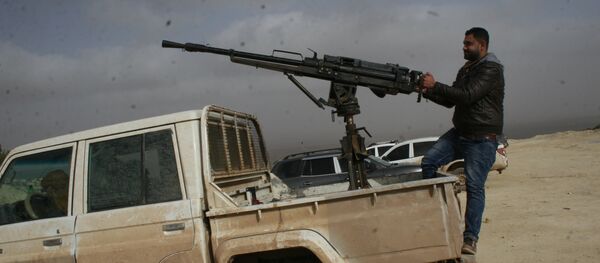 23 January 2018, 18:00 GMT
A YPG spokesman in Afrin
told Sputnik
that during the early hours of January 23, Kurdish forces freed the village of Corna, "having completely driven enemy forces out of the settlement." The spokesman added that Turkish forces were continuing their shelling of Afrin's villages, including during the night.
In a media statement released Tuesday, the SDF said that by its calculations, at least 53 Turkish servicemen had been killed and 38 more injured in clashes with SDF forces in the Afrin and Shahba cantons. Earlier, Turkish Foreign Minister Mevlut Cavusoglu confirmed the death of a second Turkish serviceman during the course of the operation so far.
In a separate statement, SDF said that its militia had destroyed several Turkish armored personnel carriers, killing six Turkish soldiers in clashes in Afrin district. Clashes are reported to be ongoing in other parts of the region, with at least 24 pro-Turkish Syrian militants reportedly killed near the village of Amara.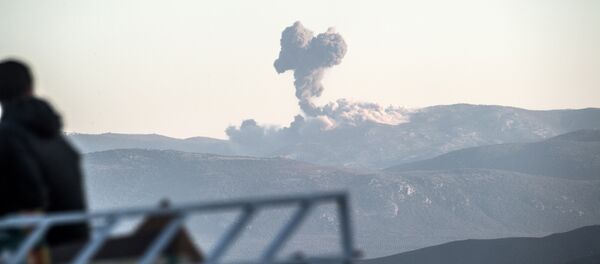 23 January 2018, 10:52 GMT
Also on Tuesday, Sputnik Arabic has released
photos
confirming the participation of the Free Syrian Army militants in the Turkish operation. Formed in 2011 to fight Damascus, the remnants of the FSA are now a Turkish-backed force of Turkmen and Arabs operating in the country's north.
For their part, Turkish officials reported to Hurriyet newspaper reported that Turkish cities in the province of Hatay, southern Turkey were subjected to rocket fire from Afrin. No casualties were reported.
On Tuesday, the UN estimated that 6,000 people have fled the fighting amid the Turkish offensive.
© REUTERS / Osman Orsal
Smoke rises from the Syria's Afrin region, as it is pictured from near the Turkish town of Hassa, on the Turkish-Syrian border in Hatay province, Turkey January 20, 2018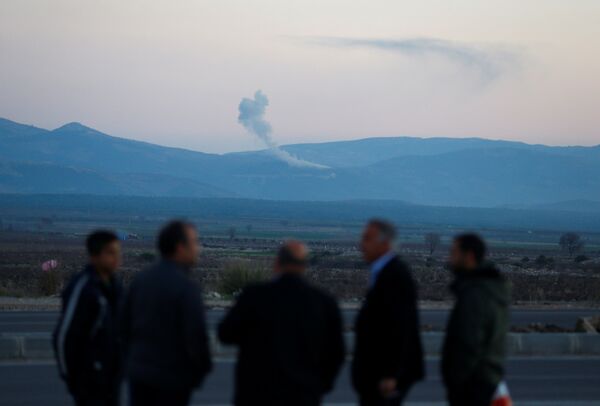 Smoke rises from the Syria's Afrin region, as it is pictured from near the Turkish town of Hassa, on the Turkish-Syrian border in Hatay province, Turkey January 20, 2018
Diplomatic Front
On Tuesday, high-ranking US officials arrived in Turkey to discuss issues including Ankara's military operation. Foreign Minister Cavusoglu noted in a press statement that the future of Turkey-US relations depends on Washington's future steps, and on who it supports in Syria. He emphasized that Ankara expects that allies like the US "will be on the side of Turkey, and not on the side of terrorists." Cavusoglu also said that Turkey's military action was aimed at "fight[ing] terrorism," "not confronting Russia, Syria or the US, and vowed that Turkey would take its fight anywhere it had to, whether it be "Afrin, Manbij, east of the Euphrates or even northern Iraq."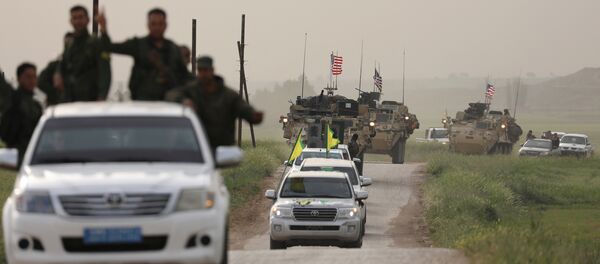 23 January 2018, 10:42 GMT
Meanwhile, speaking to reporters during his ongoing tour of Asia, US Defense Secretary James Mattis showed a hint of criticism of the Turkish operation,
saying
 that the action "disrupts what was a relatively stable area in Syria."
That sentiment was shared by French Foreign Minister Jean-Yves Le Drian, who warned that the intense fighting between Turkish forces and the US-allied Kurdish militia was a signal that new conflicts could erupt following Daesh's total defeat. The senior diplomat warned that the Turkish-Syrian Kurdish conflict "worries" France.
Also on Tuesday, NATO Deputy Secretary Rose Gottemoeller, currently on a working visit to Ankara, advised Turkish leaders to find a "balance" between the danger represented by Kurdish armed militia formations and its response. She stressed that NATO Secretary Jens Stoltenberg was in constant contact with Turkey's leadership and that he was "satisfied" with their communications. Stressing that NATO was "a big family," Gottemoeller emphasized that 'misunderstandings' between its members need to be resolved.
Finally, Ankara announced Tuesday that it is building a refugee camp in the northwestern Syrian town of Azaz, with a capacity for 3,000 for civilians fleeing the violence. The camp will feature 500 tents, and provide for civilians' basic needs. In a statement, Foreign Minister Cavusoglu recalled that Turkey already hosts 3.5 million refugees, and vowed to "tirelessly continue" its "humanitarian aid to the people of Syria."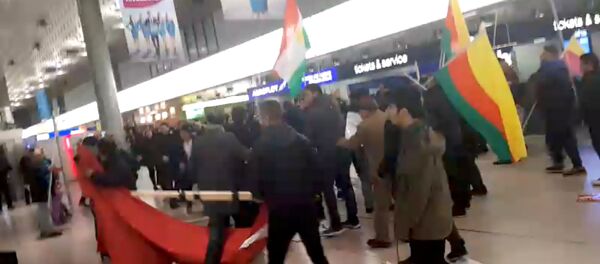 23 January 2018, 09:14 GMT
In Kurdish-controlled Afrin, authorities called for a mass mobilization to defend the area against the Turkish military offensive. "The will of the people cannot be vanquished," the area's civilian administration said in a statement, according to Reuters. "We call on all our noble people to defend Afrin and its pride, and contribute in all related activities," the statement added.
Turkey launched Operation Olive Branch on January 20 with a series of air and artillery strikes against suspected SDF positions. An estimated 6,400 Turkish troops are involved, along with up to 25,000 FSA militia. Kurdish units in the region are reported to total 8,000-10,000 militia fighters. Damascus has firmly condemned the operation, saying it was an assault on Syria's sovereignty. Moscow has called on all sides to respect Syria's territorial integrity.