The attack, carried out in the area of the southern slopes of the mountain of Darmyk, resulted in the destruction of the monument, built on a 53-meter concrete pedestal.
Ankara classifies the Kurdistan Worker's Party (PKK), which seeks autonomy, as a terrorist organization. Earlier this month, Turkey began Operation Olive Branch, a military action against what it says are the Turkish Kurdish group's affiliates in neighboring northern Syria. 
Turkish newspaper Daily Sabah described the Ocalan monument as another, albeit "relatively insignificant – piece of evidence of the organic ties between the PKK…and the People's Protection Units (YPG), the main partner of the US-led coalition in Syria."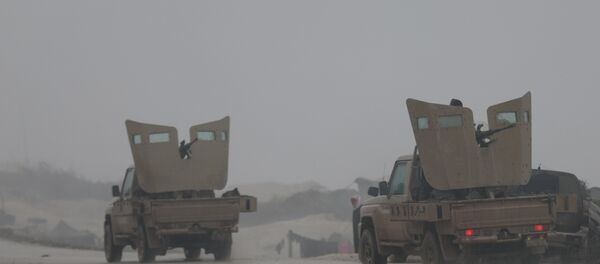 31 January 2018, 13:47 GMT
Turkey began Operation Olive Branch in the Syrian region of Afrin on January 20. The Turkish military has reported the killing of 712 militants, and the destruction of over 400 facilities belonging to them. On Tuesday, Turkey's defense ministry confirmed that five Turkish troops have been killed in the operation.
Damascus has firmly condemned Turkey's operations on its territory as an assault on Syria's sovereignty. Russia, in turn, has called on all sides to respect Syria's territorial integrity. On Wednesday, Russian Foreign Ministry spokeswoman Maria Zakharova said that Moscow continues to monitor the situation closely, and sees the developments in northern Syria as "a matter of grave concern."