The Government of British Prime Minister Theresa May on January 31 pledged that it would make available its internal reports on the impact of the United Kingdom's exit from the European Union after excerpts of internal modelling was leaked to the media on Monday.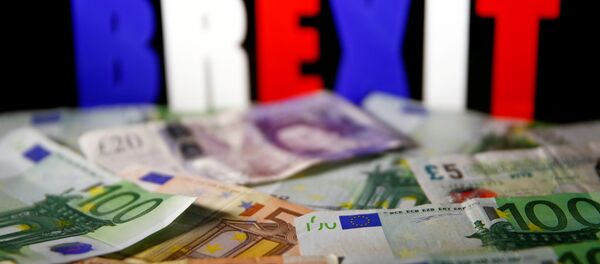 31 January 2018, 15:57 GMT
Number 10's promises to allow the documents to be viewed privately by Parliamentarians after the House of Commons votes for such a measure, have been strongly criticized even by the Prime Minister's fellow Conservative MPs.
The leaked documents, apparently produced this month, forecast that Britain's condition would worsen economically under all three of the projected scenarios envisaged by the government.
Comprehensive FTA
In the event that a free-trade agreement were to be reached between Brussels and London, growth in the British economy would allegedly still shrink by 5 percent over the following decade and a half.
Single Market Access
The "soft Brexit" scenario in which Britain leaves the EU but maintains preferential economic access to the European Single Market would reportedly still result in slower growth by at least 2 percent over the same following 15 year period.
No Deal
Under the "nightmare scenario" in which the UK crashes out of the bloc with no post-Brexit arrangements in place, the government expects the economy to dent the economy by as much as 8 percent annually as the trading partners would revert to World Trade Organization rules that would require the imposition of import tariffs.
Prominent Labour Parliamentarian and Chairman of the House of Commons' Select Committee for Exiting the European Union derided the attempts of government ministers to play down the significance of the leaked documents during Prime Minister's Question Time.
"What confidence should we have when the honorable gentleman yesterday said from that dispatch box that we don't need to worry about the gloomy forecasts because under every circumstance the British economy would continue to grow?," he said.
READ MORE: Gov't Analysis on Brexit: Not Much of a Surprise — Political Commentator