Sputnik: Is this an attempt to influence Russia's upcoming presidential election? 
Adam Garrie: It's an attempt to attempt that, but I don't think they'll be very successful as Russia has a very transparent election system. I don't think in terms of the actual polling day they'll be able to influence much and the more the US antagonizes Russia, which is more and more every day, the more the mainstream will only increase their popularity. What this does show is that the United States is angry at everything Russia is doing in the geopolitical theater that has become a success. All of these combined makes the United States angry and when the US becomes angry it will place sanctions on a country and try and defame a country on an international stage it will try and put various individuals on a blacklist and demonize them and this is what we've seen with Russia in the last 24 hours. It's nothing new; it's just a continuation of the longstanding policy of whenever Russia has a political, diplomatic or military success, the US needs to punish them in the only they know how. 
Sputnik: Some see it as a political Guantanamo Bay…Is this list a violation of WTO rules?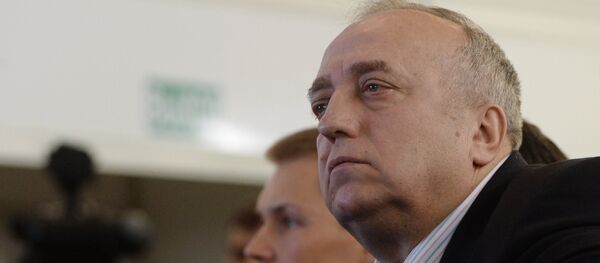 30 January 2018, 17:15 GMT
Adam Garrie:
It certainly appears that it very much is. It's a vindictive list that isn't based on anything related to national security. It could violate the Vienna convention regarding diplomatic protocol, it's pure and naked vengeance and like most things the US does on the international stage. They don't consult these legal experts or legal text before they release their vindictive list. It's essentially a godfather approach to geopolitics. It's not a way to run a mature political process or a diplomatic process. It's just "mafia tactics" that has no place in the 21st century. 
READ MORE: US Treasury Secretary Says 'Kremlin Report' Will Trigger New Sanctions
Sputnik: What effect will the list have on European companies? Is the list aimed at getting rid of competition?   
Adam Garrie: The US has been very keen to get Russian businesses out of Europe. The EU and European countries individually have long been an American political playground between Europe and Russia. At the end of the day, it could be very much like the Iranian nuclear deal where Trump couldn't convince his European partners to pull out that deal. The French, the Germans, and others are having healthy economic relationships with Iran and accept that Iran hasn't violated any point of the nuclear deal according to the UN itself and they might take a similar pragmatic attitude in deals with Russia. I think we'll see that the Europeans who like to follow America; we'll see them put their pocketbooks before their ideology – let alone American ideology.
The views and opinions expressed in this article are those of the author and do not necessarily reflect those of Sputnik.