The Israeli prime minister will formally approve the construction of a settlement at the Havat Gilad outpost in the West Bank, following the murder of a local rabbi, Prime Minister Benjamin Netanyahu said Sunday.
"The government will today regularize the status of Havat Gilad to allow the continuance of normal life there," he said during a weekly cabinet meeting.
The ministers are set to decide on the creation of a "new community" on the site of the outpost with some 50 families living there and provide the settlement with building permits and state money.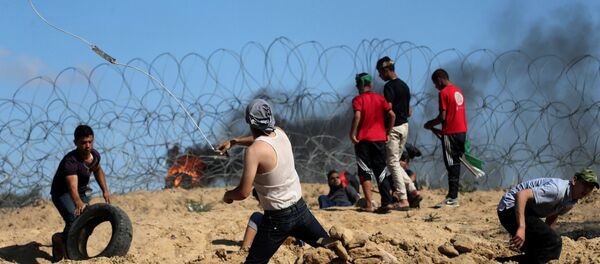 3 February 2018, 01:05 GMT
Rabbi Raziel Shevah was killed near Havat Gilad last month. A week after the murder, Israeli forces conducted an operation to search for the perpetrators and killed a suspected Palestinian in the city of Jenin, some 35 kilometers away from Havat Gilad. 
However, they failed to catch 22-year-old Ahmed Jarrar, the man suspected of organizing the attack.
The operation continued earlier this week in the village of Burquin, where Israeli troops killed a 19-year-old teenager amid clashes with locals. 
READ MORE: Palestine Liberation Organization Calls for Cutting Ties With Israel
During the rabbi's funeral, Israeli Education Minister Naftali Bennett said that the only revenge for the murder was the construction of settlements, while Netanyahu underlined the same policy during his Sunday speech.
"Anyone who thinks that through the abominable murder of a resident of Havat Gilad, a father of six, they would break our spirits… is making a bitter mistake," he said.
Israeli settlements on the West Bank are illegal under international law as Palestinians regard the territory as part of their future state. Israel, for its part, differentiates between the settlements it has approved and not.
The latter are designated as outposts and are usually populated by religious nationalists, who consider the whole territory on the West Bank as part of Israel.