Centers of the distribution of humanitarian aid from Russia have come under shelling in the center of Damascus, a Sputnik correspondent reported.
According to a police officer at the site, two people have been killed and several others injured as a result of the attack.
One mortar exploded near the building of the Syriac Orthodox Church. Another shell landed near a temple of the Antiochian Orthodox Church. According to church representatives, there are wounded.
Blasts have been heard in the Christian quarter of Damascus, the correspondent reported. A Russian inter-religious delegation, which brought the humanitarian aid, is currently at the site.
READ MORE: US Continues to Hinder Humanitarian Aid Deliveries to Syria — Russian MoD
Earlier in the day, the state-run SANA news agency reported that militants shelled populated areas in the Old City of Damascus, killing a woman and injuring three other civilians. According to the Sputnik correspondent, the attack came at a time when classes in local schools were finishing. Three people received shrapnel wounds and were evacuated on a civilian vehicle.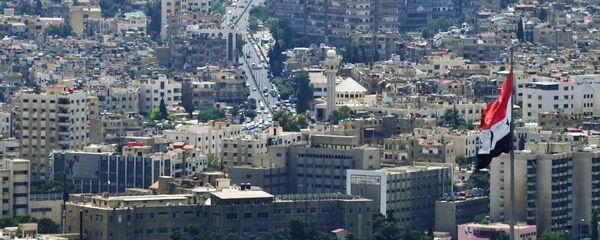 3 February 2018, 16:41 GMT
Terrorists controlling the eastern suburb of Damascus have shelled the historic center of the Syrian capital and the surrounding Christian neighborhoods almost daily in recent months.
No further details have been immediately available.
Russia has been involved in a massive humanitarian campaign in Syria, providing food and essentials to the local population, as well as setting up portable hospitals.