"They, I think, are seriously evaluating the F-35, as well as other platforms I'm sure," Lockheed International Executive Vice President Rick Edwards told Reuters this week at the Singapore Airshow, adding, "when they are ready, we will respond."
According to Richard Aboulafia, a Washington aviation analyst and vice president of analysis at Teal Group, the Asian military aircraft markets are among the strongest in the world. Up to 2015, Japan, South Korea, Australia and Singapore were the only countries to purchase a military aircraft with a unit price in excess of $50 million, except for Israel and Saudi Arabia.
Lockheed already has a lot of planes to deliver to clients, creating a backlog. Aboulafia forecasted in a Thursday report for Defense News, however, that Singapore is "likely to join the F-35 club in the next 10 years."
On February 6, Singapore Air Force head Maj. Gen. Mervyn Tan confirmed in an email to the Straits Times that the service was undertaking a study of the F-35 as a potential addition to the F-16 fighter fleet. "This is to ensure that we continue to have a capable fighter fleet to defend Singapore's sovereignty and interests into the foreseeable future," the general said.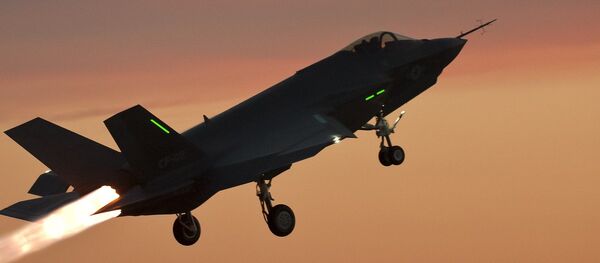 1 February 2018, 21:18 GMT
The F-35B "jump" jet is on display at the Singapore Airshow, which runs from February 6 to 11. US President Donald Trump's administration marshalled the diplomat responsible for foreign military sales, Tina Kaidanow, principal deputy assistant at the State Department's Bureau of Political-Military Affairs, to the airshow for the first time in years. The diplomat's mission is to promote Lockheed's F-35 and Raytheon-made missiles as part of Trump's "Buy America" effort, Business Insider reported February 2.  
Germany has previously requested classified documents from the Pentagon about the F-35's capabilities, and its air force chief has expressed support for buying F-35s, but political pressures might nix the possibility of procuring a non-European made aircraft. The Luftwaffe's chief of staff has reportedly been told not to talk about the F-35 publicly again unless he wants to lose his job.