"We are surprised. Judge went well outside what the parties presented in court. This seems to have led to many factual errors in the judgment. US DoJ [Department of Justice] confirmed to Reuters again yesterday that its case is ongoing. There are 3 months to appeal judge's decision," Assange said in a statement Tuesday.
If Assange leaves the embassy, he remains subject to a UK arrest warrant for avoiding the court in 2012 and jumping bail. "He appears to consider himself above the normal rules of law and wants justice only if it goes in his favor," the judge said. Assange's attorney argued that Assange feared arrest by US officials for publishing secret documents on WikiLeaks, which is why he jumped bail and sought refuge at the embassy.
Last May, Swedish authorities dropped an arrest warrant against Assange based on unverified charges of sex crimes.
​"It was a surprise. I was communicating with Mr. Assange yesterday and he was pretty optimistic," Randy Credico, activist and former director of the William Moses Kunstler Fund for Racial Justice, told Radio Sputnik's Loud & Clear Tuesday.
"I spoke to his mother last night at length and she was cautiously optimistic," Credico noted.
"The judge not only did not say, 'in the interest of justice, he should be let free,' she went further. She was nasty," the perennial political candidate and comedian said.
"As Roy Cohn says, 'forget about the facts, just tell me who the judge is.'"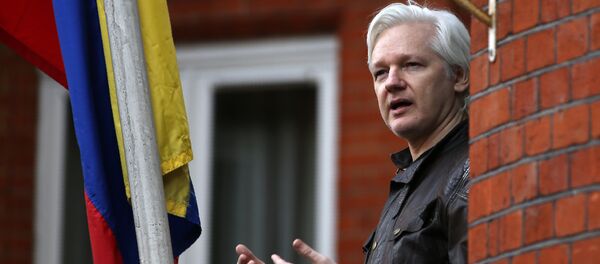 9 February 2018, 13:39 GMT
As it turns out, the judge ruling on Assange's appeal, Judge Emma Arbuthnot, is married to a conservative UK politician, Lord James Arbuthnot, who chairs the Advisory Board of Thales (UK), was chair of the Defense Select Committee from 2005 to 2014 and presently serves as minister of state for defense procurement. Arbuthnot's name happens to appear in WikiLeaks' archives 58 times. Thales, of course, is a prominent defense contractor and symbolizes one type of organization on which WikiLeaks tries to shine a light.
"This was a horrible decision," Credico said. "I feel bad for his mother in particular, because she hasn't seen him in six years. His kids haven't seen him in years."