Senior Kurdish official Badran Jia Kurd has announced that the Syrian Kurdish forces and government have reached an agreement for the Syrian army to enter Afrin to help halt Turkish attacks. He added that the army troops would be deployed along a number of border positions and were expected to arrive in the Afrin region within the next two days.
The Turks-initiated military operation "Olive branch" has been underway against Kurds in Afrin, Syria's north-west since January. Turkey reported it had eliminated over 1.5 thousand militants, including both Kurdish fighters and Daesh militants (deemed a terrorist organization in Russia), according to Ankara.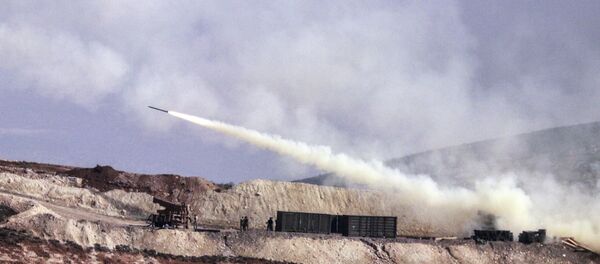 17 February 2018, 09:36 GMT
A source updated on the matter told RIA Novosti Thursday that Damascus and the Kurds had agreed that Syrian fighters would arrive at the Turkish border near Afrin in the days to come.
"We are urging the Syrian army to come to protest the Syrian borders from the Turkish occupation. Afrin is part of Syria, that's why we have called on the army to stand on guard of the border," Mahmud said.
According to the speaker, Syrian soldiers haven't yet arrived.
"We are calling on the army to help, because we'd love to preserve a unified Syria, as Turkey is seeking to annex the Syrian territories and make them part of its land, like it was with Aleksandretta sanjak [during the Ottoman Empire]," the Kurdish representative noted.
He pointed out that the protection of Syria is a top priority issue for Kurds, whereas they will engage in debates over the country's federalization, which they are striving for, later. Separately, Mahmud accused Turkey of exploiting Daesh and Al-Nusra Front militants [terrorist organizations prohibited in Russia] in their attacks.
READ MORE: Break-Up of Syria May Lead to 'Balkanization' of Middle East — de Mistura
Turkey launched the Afrin operation, codenamed "Olive Branch" on January 20. The city of Afrin is currently controlled by the US-backed Kurdish People's Protection Units (YPG), which is deemed by Ankara affiliated with the Kurdistan Workers' Party (PKK) — a terrorist organization, according to Turkey.
Damascus has strongly condemned Ankara's actions, with the Syrian Foreign Ministry stating that they are violating the country's sovereignty.