"Situation in Eastern Ghouta has been exacerbated. Illegal armed formations has been denying citizens the right to freel[y] exit the controlled areas. Most of the civilians badly need urgent medical aid," the center's statement read.
Eastern Ghouta is one of Syrian de-escalation zones, established during the Astana talks, with Russia, Iran and Turkey serving as guarantors of the agreements.
According to the Russian Defense Ministry, the Syrian capital of Damascus and its suburbs subjects to shelling by insurgents.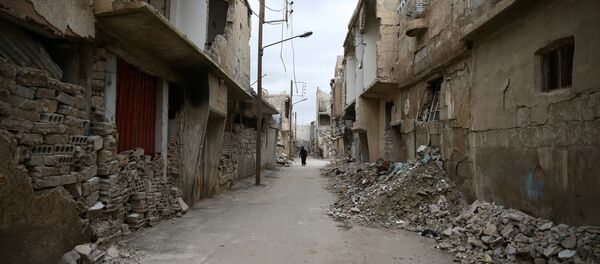 23 February 2018, 04:32 GMT
"The Syrian capital is subject to sustained provoking shelling. Over the last 24 hours, 33 mines have been fired by insurgents from Eastern Ghouta targeting various regions of Damascus and settlements nearby. Civilian casualties and destructions have been reported," the statement said.
The servicemen of the Russian Center for Syrian reconciliation are proceeding with the implementation of their tasks in Syria. Since the military campaign in the country is over, the center's employees are now focused on the withdrawal of civilians from the de-escalation zones and helping the refugees to return home.
Earlier, Russian military reported that critical humanitarian crisis was underway in Eastern Ghouta, saying that appeals to illegal armed groups to cease resistance and surrender arms were unsuccessful and that the peace negotiations in the region were torpedoed.
Recently, the Kuwait's Ambassador to the United Nations said that the UN Security Council will vote on the Syria ceasefire resolution on Saturday at noon.