On Saturday, the UN Security Council unanimously adopted resolution 2401 that urges all parties to the conflict to immediately stop all clashes and adhere to a long-term humanitarian pause on the entire territory of Syria in order to ensure the safe and unhindered humanitarian aid supplies as well as medical evacuation of those injured.
The Russian Embassy noted that the United States supported the resolution which, among other things, praised the efforts of Russia, Turkey and Iran as the Astana process guarantor states aimed at cessation of hostilities in Syria.
"In this regard, attention was drawn to the statements of [US Department of State] Spokesperson Heather Nauert, contradicting the US position at the United Nations, about the 'failure of the Astana process' in connection with the situation in Eastern Ghouta … Such biased statements can only be met with bewilderment. Nobody will even think of the 'failure of the Geneva talks', despite the fact that over the years since their launch, unfortunately, they have not managed to achieve any significant milestones in the Syrian political settlement so far," the embassy said in a statement on Sunday.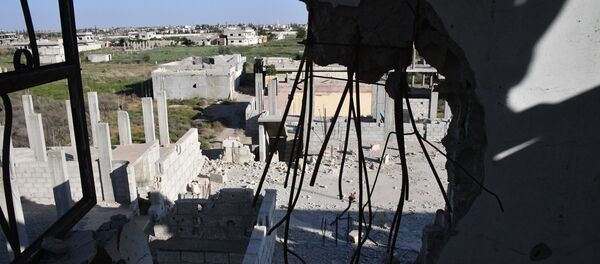 26 February 2018, 03:47 GMT
The Russian Embassy had also expressed the concerns that the United States was receiving information about the situation in Syria through unreliable sources, such as the
White Helmets
non-governmental organization, which, according to the Russian diplomats, joined the ranks of terrorists.
"We urge the US partners to verify more carefully the information they receive, compare it with the real situation in Syria and take into account the tireless efforts of Russia, Turkey and Iran to reconcile the Syrians at the Astana talks and in the light of the Syrian National Dialogue Congress recently held in Sochi," the embassy said.
The diplomatic mission stressed that Russia was seeking to achieve together with the international community an early completion of the anti-terrorist operation in Syria and help establish a long-awaited lasting peace in this country.
Eastern Ghouta, located near Damascus, is controlled by Jaysh al-Islam and other armed opposition groups as well as by Jabhat al-Nusra terrorist group. The militant groups attempting to provoke the backfire from the Syrian army. Meanwhile, the region is one of four de-escalation zones, established during Syrian reconciliation talks in Astana, with with Russia, Iran and Turkey serving as the agreements' guarantors.