"It was a coordinated operation. Employees of the Russian Federal Security Service came to Argentina three times. We exchanged information about the way the [criminal] organization operated both in Argentina and Russia," Bullrich told the RT broadcaster.
A batch of cocaine worth around 60 million euros (over $73 million) was prepared to be delivered to Russia, the Argentine security minister noted.
"The mutual trust that was achieved allowed us to liquidate the criminal organization. The joint work has given us much confidence. This opens to us a very big door and window for work with Russia," Bullrich added.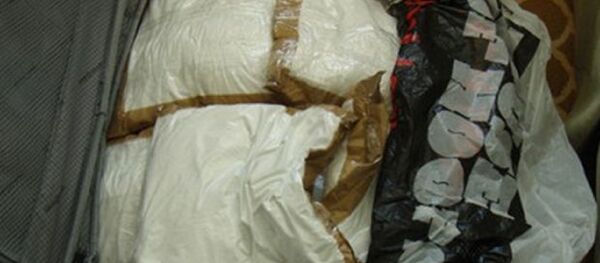 24 February 2018, 16:32 GMT
On Thursday, Bullrich said that the security forces of Russia and Argentina had intercepted the shipment of 389 kilograms (857 pounds) of cocaine to Moscow in a joint anti-drug operation, which had started in late 2016, when the Russian embassy in Argentina notified the country's security forces that it had found some bags with cocaine in them in the premises of the embassy's school.
According to the Russian authorities, the cargo was brought to the school by a technical staff member.
In a special operation launched by the two states' security forces, the drugs were replaced with flour, and the bags were equipped with GPS trackers.
Several people have been detained as a result of the operation, including an Argentine police officer and a Russian national.
On Monday, the FSB Center for Public Relations said that the organizer of the group, which had been smuggling drugs from Argentina to Russia, was hiding in Germany, adding that he is wanted by the International Criminal Police Organization (Interpol).
Recent Detentions
A Russian citizen has been detained in Ezeiza International Airport in Buenos Aires attempting to smuggle almost nine pounds of cocaine out of Argentina in the false bottom of a suitcase, Argentinian Security Minister Patricia Bullrich said.
"A Russian citizen brings his suitcases to Ezeiza, Airport security police check them thoroughly and find almost four kilograms [8.8 pounds] of cocaine in a false bottom. Yes, after 389 kilograms of cocaine found last week and linked to the Russian Embassy we have boosted control all across the country," the minister wrote on Facebook on Tuesday.
A Russian citizen was arrested on Sunday at Ezeiza International Airport in Argentina. He was attempting to board a plane to Frankfurt, Germany, and was caught with 3 and a half kilos of cocaine. pic.twitter.com/7nBatoZSeh

— Χριστόφορος (@just_some_d00d) 28 февраля 2018 г.
According to media reports, the Russian national was going to fly Lufthansa to Frankfurt on Sunday, when he was detained after the luggage scan, but the information about his arrest emerged only on Tuesday.