Zarif has called the recent anti-Tehran resolution proposed by the United States and the UK a failed try to hide their implication in the Yemeni war.
His remarks came a day after Russia vetoed a UK-drafted resolution at the UN Security Council, urging for "additional measures" against Tehran over the alleged breach of the 2015 arms embargo on Yemen, having supplied weapons and military equipment to the Houthi movement.
Desperate attempt @ UNSC by US&UK to cover up complicity in 3 yrs of Saudi & Emirati war crimes in Yemen failed. Since the very start, Iran called for ceasefire, aid, dialogue & inclusive government. This—not a delusion of military victory or accusations—remains the only solution

— Javad Zarif (@JZarif) 27 февраля 2018 г.
"The Russian Federation cannot support the draft resolution proposed by our British colleagues for the extension for the mandate of the panel of experts of Security Council committee 2140 and sanctions against Yemen," said Vassily Nebenzia, Russian Ambassador to the UN, on Monday.
At the same time, Iranian Foreign Ministry spokesman Bahram Qassemi stated that the UK and the US were responsible for the ongoing military aggression against Yemen.
"The performance of the US and Britain over the past three years at the [United Nations] Security Council has been unconstructive and in line with giving legitimacy to the aggressors against Yemen," Qassemi said on February 27.
He proceeded to say that the aforementioned countries had been using the mechanisms of the UNSC to cover up the "war crimes" committed by Saudi Arabia and its allies in Yemen.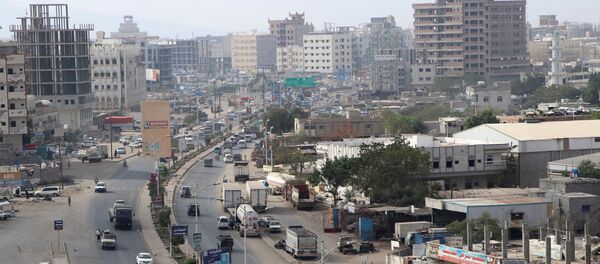 26 February 2018, 22:43 GMT
Eleven members of the UNSC voted in favor of the draft resolution, two countries, China and Kazakhstan, abstained, while Russia and Bolivia voted against.
Meanwhile, the Russia-proposed resolution on extending sanctions on Yemen was unanimously adopted by the UN Security Council. Nebenzia explained that efforts were made to extend sanctions on Yemen, not to target Iran.
Yemen has been embroiled in a bloody conflict between the government headed by President Abd Rabbuh Mansur Hadi and the Houthi movement, also known as Ansarullah.
READ MORE: Iran Blasts US Allegations Over Missile Supply Amid Anti-Tehran Resolution Veto
Since March 2015, the Saudi-led coalition of mostly Persian Gulf countries, backedby the United States and the United Kingdom, has been carrying out airstrikes against the Houthis at Hadi's request.