"Defense Minister Gen. Sergei Shoigu sent through diplomatic channels to UN Secretary General's Special Envoy for Syria Staffan de Mistura an explanation on the range of measures held on behalf of the Russian president by the Russian Center for Reconciliation of Warring Parties," the ministry said.
On Monday, de Mistura said he wanted more details about Shoigu's proposals on various Syrian issues.
The letter clarifies that the center, together with the Syrian authorities, is launching an operation to immediately withdraw civilians, as well as the sick and the wounded, from Eastern Ghouta.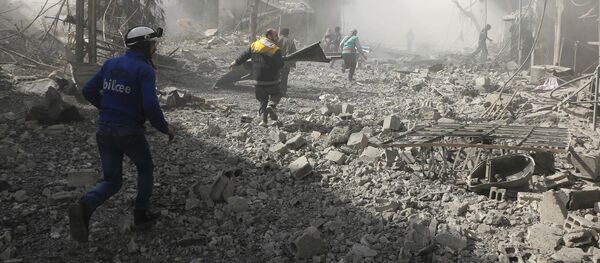 28 February 2018, 03:54 GMT
For this purpose, daily "humanitarian pauses" were introduced from February 27 in the the vicinity of Duma and Irbin districts from 9 a.m. to 2 p.m. local time (7.00 to 12.00 GMT). At this time, the Syrian government troops will stop strikes on terrorists.
In order to evacuate civilians, a humanitarian corridor with access to Muhayam-al-Wafedin settlement has been prepared with the assistance of the Syrian Red Crescent Society. The citizens are informed of the evacuation details through broadcasting, SMS and leaflets explaining how to exit from the area and to pass government checkpoints.
Shoigu emphasized that "it is simultaneously proposed to open humanitarian corridors from al-Tanf and Rukban, as well as to establish an international commission to assess the humanitarian situation in Raqqa."
On Sunday, the UN Security Council unanimously approved resolution 2401, which provides for the introduction of a ceasefire regime throughout Syria for a period of 30 days.