According to the media outlet, senior Trump administration officials and military commanders have been watching with growing concern as Kurdish troops refuse to fight Daesh.
Without their support, the campaign to defeat the violent terrorist group is in jeopardy; jihadists and foreign fighters will have a chance to recover and move deeper into western Syria and "eventually into Turkey and Jordan," which would allow them to return home to continue their "sacred war" there, American analysts believe.
While the SDF members amount to about 50,000 Kurdish and Arab fighters throughout eastern and northern Syria, two weeks ago more than 20,000 Kurdish fighters were deployed in Afrin to repel Turkish offensive, according to five anonymous American military officials who are closely monitoring the situation.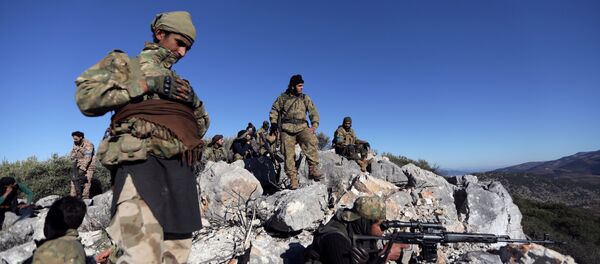 28 February 2018, 14:17 GMT
"The Turkish invasion to occupy Afrin has terribly influenced our fight against ISIS [Daesh]," Shahoz Hasan, co-president of the Syrian Democratic Union party, said in an interview on February 26. "After we managed to get ISIS in a choke hold," he said the Turks "are attacking our forces in that region."
On January 20, Turkey announced the launch of operation "Olive Branch" against the Kurdish forces in Syria's northwestern Afrin district. The move was made in response to the US decision to start training a 30,000-strong border security force the Syrian Democratic Forces, comprised of the Kurdish People's Protection Units (YPG) and the Democratic Union Party (PYD), which Ankara considers affiliates of the Turkish Kurdistan Workers' Party (PKK), listed as a terrorist organization by Turkey.
Washington's decision was harshly criticized by Turkey with President Recep Tayyip Erdogan threatening to "strangle" the forming "terrorist army." Damascus has expressed its strong condemnation regarding the Turkish offensive, insisting that it is a violation of Syria's sovereignty. Ankara, in turn, has emphasized that the operation is not targeting the Syrian government, but is aimed at clearing the region of terrorists, "beginning with Manbij and throughout our entire border [with Syria]."
READ MORE: Cutting Off Kurdish YPG Militia From Border With Syria
Days, after the operation started US Defense Secretary James Mattis, claimed that Ankara's military campaign in Afrin was hindering what he said was the fight against terrorism.