Brought to you by Tomsk Polytechnic University
These materials can be used to coat military equipment of radars and to protect high-tech devices from electromagnetic radiation. In addition, these microspheres can be used in hydrogen energetics and medicine: for delivering drugs and treating blood clotting disorders.
"Magnetite microspheres (Fe3O4) have unique magnetic properties, which makes them a promising material to absorb microwave radiation," says Ivan Shanenkov, an employee at the Institute of Power Engineering at Tomsk Polytechnic University (TPU).
Thanks to the hollow structure and good magnetic properties, magnetite microspheres can absorb up to 99.99 percent of electromagnetic radiation in the 4 to 12 GHz frequency range.
READ MORE: Russian Scientists Prepare Launch of 'Superheavy Elements Factory'
The staff of the TPU laboratory also synthesizes other ultra- and nano-dispersed iron oxide particles. For example, alpha-phase iron oxide serves as a base for multifunctional fingerprint powder. The scientists are also successfully synthesizing rare epsilon phase ε-Fe2O3, which is 90 percent pure.
"There are only two scientific teams in the world, besides us, who can do that: one in Japan and the other in the Czech Republic," Ivan Shanenkov says. "Epsilon phase is a Fe2O3 polymorph that can only be synthesized in lab conditions and has no analogues in nature. The advantage of this material is that it has the largest coercive force among metal oxides (23 kE). The more coercive force a magnet has, the more stable it is to demagnetization factors. Fe2O3 absorbs ten times as much electromagnetic radiation on radio frequencies than magnetite. There have been at least 100 publications on the epsilon phase in the world."
The new method will make it possible to synthesize various phases of iron oxides in one millisecond, while similar chemical technologies require from one day to three weeks. In addition, the method created at TPU can also save resources: simple water pipes are needed to synthesize iron oxides, and the production process costs only about five rubles ($0.09) per item.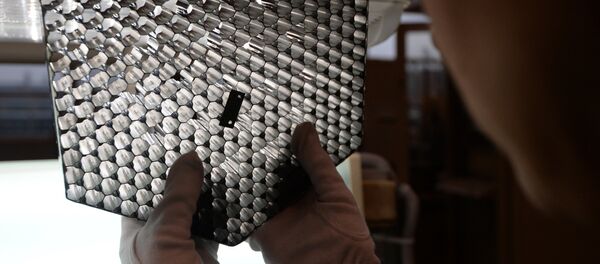 15 January 2018, 11:53 GMT
The scientists use unique equipment for the synthesis: a coaxial magnetoplasma accelerator designed by Professor Alexander Sivkov from the TPU power and electrical engineering department. A 20-cm-long section of steel pipe is put into the acceleration that serves as a central electrode, then energy is released and a plasma charge collects iron accumulating on the pipe and goes into the working chamber filled with oxygen. The run-away plasma chemical reaction results in iron oxide nano- and micro-particle synthesis. In addition, their properties are different from iron oxides synthesized by chemical methods, which is generating interest in the method both in Russia and abroad.
For example, the Moscow Hematology National Medical Research Center is interested in the project. It has already received proof that adhesive bandages covered with this powder improve coagulation, which can save people with hemophilia.
In addition, magnetite is used in medicine to deliver drugs. Its particles are harmless and easily removed from the body.
© Tomsk Polytechnic University Press Service /
Synthesizing device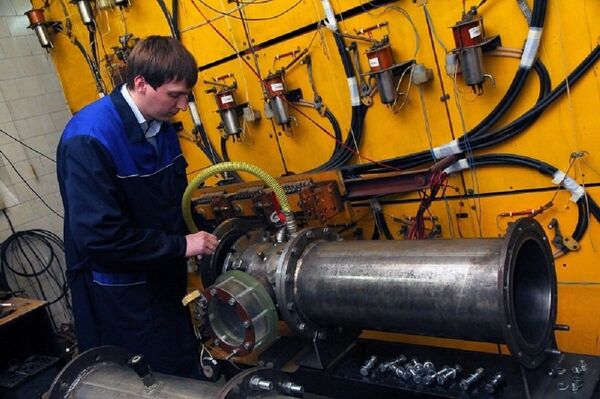 Synthesizing device
© Tomsk Polytechnic University Press Service /
These powders can also be used as masking coating for military equipment: it will be invisible at special frequencies. In addition, magnetite coating can be used to protect fiber-optic cables and other IT equipment from high-frequency interferences during high-speed data transfers.
Tomsk scientists study the properties of powders they obtain in the accelerator together with colleagues from Jilin University (China) as part of a joint grant from the Russian Foundation for Basic Research for 2017-2018.
"As part of the grant, we research synthesis conditions and absorptive properties of the iron oxide powder. Our part of the work is to determine ideal conditions and system parameters for synthesizing powders of various phases. Our Chinese colleagues, headed by Professor Guangshe Li and Professor Han Wei, one of the first foreign TPU graduates, study the microstructure and magnetic properties of the iron oxides we synthesize. Now we are planning to extend our grant for a second year to research the epsilon phase's radio-frequency properties," Ivan Shanenkov said in conclusion.