The message quoted by the SANA news agency also says that Syria calls on the UN secretary general and the UN Security Council president to fulfill their duties and pressure countries supporting terrorist groups in Eastern Ghouta in order to comply with Resolution 2401.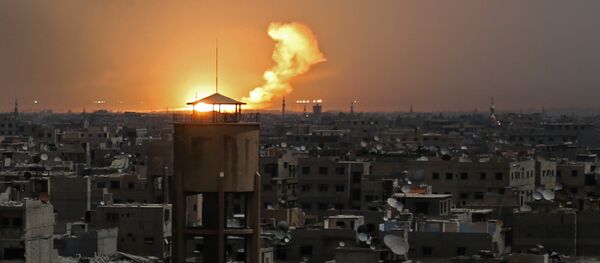 A one-month Syria
ceasefire-stipulating
UNSC resolution 2401 was adopted on February 24. The resolution does not apply to anti-terrorist operations. However, the truce violations continue to take place in the country. Damascus has been constantly shelled by local militants. Western countries are accusing the Syrian government and Russia of being responsible for the escalation of tensions in the area, however, Damascus says it opens fire in response to 
shelling
from the Eastern Ghouta suburb.
In February, Damascus launched large-scale operation codenamed Damascus Steel to liberate the Eastern Ghouta area from terrorists formerly known as the al-Nusra Front movement. Recently, the troops regained control over the town of Nashabiyah and a number of villages and farms in the region.