President of France Emmanuel Macron has opened a henhouse on the territory of the presidential residence, according to the latest publication on the official Twitter account of the Elysee Palace.
The coop will serve as home for two hens called Agathe and Marianne, a unique gift to the French leader from one of the country's farmer cooperatives.
​A video attached to the Tuesday post shows the hens arrive at the palace. In the video, Agathe and Marianne are introduced to Macron's dog Nemo, a three-year-old Labrador-Griffon that he and his spouse Brigitte Macron adopted from a rescue shelter in August last year.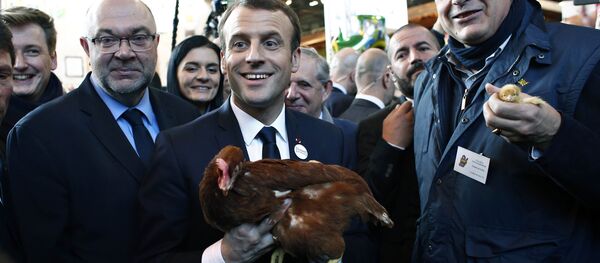 25 February 2018, 13:55 GMT
The hens will be live in special little houses with nameplates on them.
Former French President Francois Hollande had a female Labrador called Philae — after the first spacecraft to land on a comet — during his tenure at the Elysee Palace, which has a large garden for pets to cavort in.
The black Labrador puppy was also a gift to Hollande from a Montreal-based foundation for French veterans to thank him for meeting with them during his visit to Canada in November.