Former pornstar Stephanie Clifford, commonly known under her stage name of Stormy Daniels, has sued US President Donald Trump over the "hush agreement" in connection with their alleged affair, a document, published by the actress's lawyer says.
According to the document, the agreement "does not exist, because, among other things, Mr. Trump never signed." At the same time, the suit alleges that Clifford had an affair with Donald Trump back in 2006, which she wanted to reveal after Trump had won the Republican Party nomination.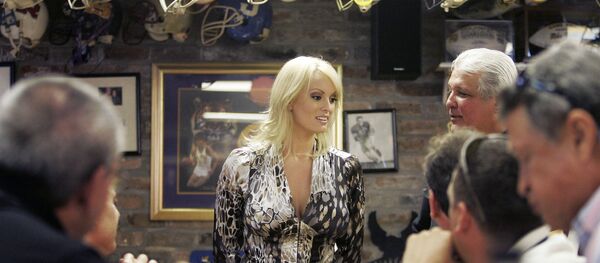 12 January 2018, 21:40 GMT
However, with the help of his lawyer Michael Cohen, Trump wanted to "aggressively… silence Ms. Clifford as part of an effort to avoid her telling the truth, thus helping to ensure he won the presidential election," the suit says.
Cohen then prepared a non-disclosure agreement, using the pseudonyms Peggy Peterson and David Dennison, that had to be signed between Clifford and Trump as well as Essential Consultants LLC company.
Days before the 2016 presidential vote, Clifford signed the document, while Cohen signed it on behalf of Essential Consultants; Trump, however, "did not sign the agreement, thus rendering it legally null and void and of no consequence," the suit says.
READ MORE: Trump's Sexual Skills 'Textbook Generic,' Porn Star Stormy Daniels Claims
Last month, Michael Cohen told the New York Times that he had paid $130,000 to the actress from his own pocket, but refused to specify, why he had made the payment.

15 October 2017, 18:33 GMT
In January, the Wall Street Journal published a report alleging that the porn star was paid $130,000 in October 2016 to keep silent over her affair with Trump which allegedly occurred a decade beforehand.
The same month, Cohen released a statement in Clifford's name, where the actress denied any affair. At the same time, a week after the Wall Street Journal report, In Touch magazine published a 2011 interview with Clifford, where she admitted to having had a sexual affair with Trump after meeting him at a golf tournament in Lake Tahoe, Nevada.