A British police officer who responded to the incident on Sunday afternoon is also in a coma, Sky News reported, citing its sources.
Earlier, Temporary Chief Constable at Wiltshire Police, Kier Pritchard reported that a Wiltshipe police officer, who was part of the first response team at the scene of the incident was also receiving intensive care.
On Monday, Wiltshire police said that a man and a woman were found unconscious on a bench at a shopping center in Salisbury. Metropolitan police counter-terrorism chief Mark Rowley confirmed on Wednesday that former officer of Russia's Main Intelligence Directorate (GRU) Sergei Skripal and his daughter Yulia were targeted by a nerve agent in an attempted murder incident.
"In summary, it's being treated as a major incident involving attempted murder by administration of a nerve agent," Metropolitan police counter-terrorism chief Mark Rowley said.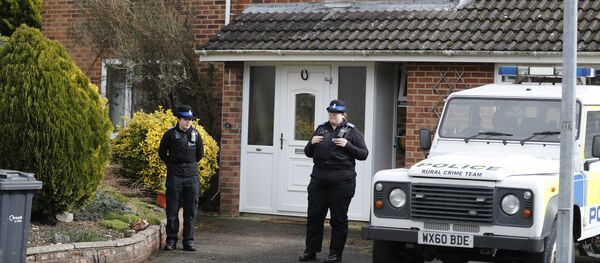 UK Foreign Secretary Boris Johnson later commented on the incident, saying that it was too early to speculate about the nature of the incident, though noted that London will respond if it appears that Moscow was involved. Moscow slammed UK's allegations of involvement in Skripal's poisoning as "groundless".
The British media reported earlier that Skripal, while living in the UK after a spy exchange deal between Moscow and Washington in 2010, allegedly "continued to communicate with intelligence officers from the Russian embassy."
The embassy Russian Embassy in the UK said Wednesday it was not aware of any contacts between the staff of the Russian diplomatic mission and the ex-GRU Colonel. "We do not know about any contacts of Skripal with any of the embassy's employees. As we have already said, Skripal was not registered with the consulate department," an embassy spokesman told Sputnik.