According to recent reports, the police have been hunting a blonde woman holding a red bag filmed on CCTV walking alongside Skripal. The footage appeared on the web on March 6, however, the woman was believed to be Skripal's daughter. It turns out that Yulia is not blonde, but has reddish brown hair, according to a witness who noticed them hours before they were found unconscious.
The UK police are considering numerous versions of the Salisbury incident, including Russia-sponsored assassination and an alternative theory that the attack might have been set up in order to undermine the image of Russia.  Moscow has immediately denied any involvement in the case.
Commenting on the situation, Russian Foreign Ministry spokeswoman Maria Zakharova emphasized that the suspected contamination incident is being used as fuel for the anti-Russia campaign.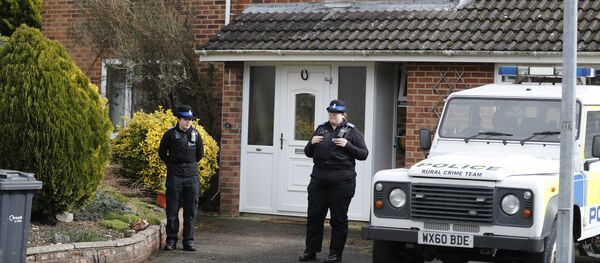 On March 5, Wiltshire police reported that a man and a woman were found unconscious on a bench at a shopping center in Salisbury, underscoring that both people were "in critical condition" and being treated for suspected exposure to an unknown substance. It was then confirmed that the man was the 66-year-old Skripal, who was granted asylum in the United Kingdom after a US-Russia spy exchange, while the woman was identified as his daughter Yulia.
Addressing media reports about Moscow's alleged involvement in Skripal's possible poisoning, Kremlin spokesman Dmitry Peskov said that he could not give any comment, because Russia didn't have any information on the incident, however added that Moscow was "open to cooperation" in the investigation into the case.
READ MORE: UK Police Consider Several Versions of Incident With Russia's Ex-Spy — Reports
Back in 2006, Skripal was sentenced in Russia to 13 years in prison for cooperating with the UK Secret Intelligence Service MI-6 and disclosing names of Russian intelligence agents working undercover in Europe. In 2010, then Russian President Dmitry Medvedev signed a decree pardoning Skripal.