"That is a series of rumors and speculations, and it is also a matter for the police to decide what to investigate," Rudd said in parliament.
She added that Skripal and his daughter remained unconscious in a critical but stable condition.
Rudd also said that the Wiltshire county police officer who was also affected after arriving on the site of the incident was very likely to have suffered from the same substance as Skripal. He was conscious and was able to speak and interact, Rudd said citing the police.
According to Rudd, UK law enforcement agencies could not yet establish what substance poisoned Skripal.
The UK Counter-Terrorism Policing Network has requested assistance from the military to remove objects from the scene in Salisbury, where former Russian intelligence officer Sergei Skripal and his daughter were exposed to a nerve agent.
"The Counter-Terrorism Policing Network has requested assistance from the military to remove a number of vehicles and objects from the scene in Salisbury town center as they have the necessary capability and expertise. The public should not be alarmed and the public health advice remains the same," the statement read.
Meanwhile, the BBC reported that some 100 military personnel, including the Royal Marines and servicemen who have training in chemical warfare and contamination, had been deployed to Salisbury.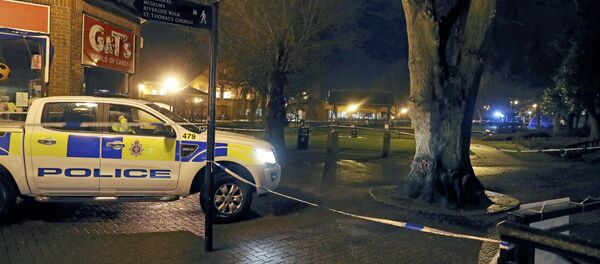 On Monday, UK police said that a man and a woman were found
unconscious on a bench
at a shopping center in Salisbury. Both of them were "in a critical condition" and being treated for suspected exposure to an unknown substance. It was later confirmed that the man was Skripal, who was granted asylum in the United Kingdom after a US-Russia spy exchange, while the woman was his daughter, Yulia.
READ MORE: Russian Ex-Spy, Daughter Reportedly in Coma After Exposure to Toxic Gas
In 2006, Skripal was sentenced in Russia to 13 years in prison for cooperating with the UK Secret Intelligence Service MI6 and transferring names of Russian intelligence agents working undercover in Europe. In 2010, then Russian President Dmitry Medvedev signed a decree pardoning Skripal, with the former agent then moving to the United Kingdom.
Russian presidential spokesman Dmitry Peskov said that the Kremlin had no information on what could have been the reason for the incident and noted that Moscow was open for cooperation. He refused to comment on media speculations about Russia's alleged involvement.
The Independent newspaper reported that UK security services were searching for a network of professional killers who were suspected of attacking Skripal. According to them, a sophisticated method of attack might mean that perpetrators could have had access to government resources and planned the attack in detail.