In a press release, officials indicated that the historic site had been spray painted with the words "N***ers Leave" along with an image of a penis on the front of the building.
Warning: This image contains offensive language.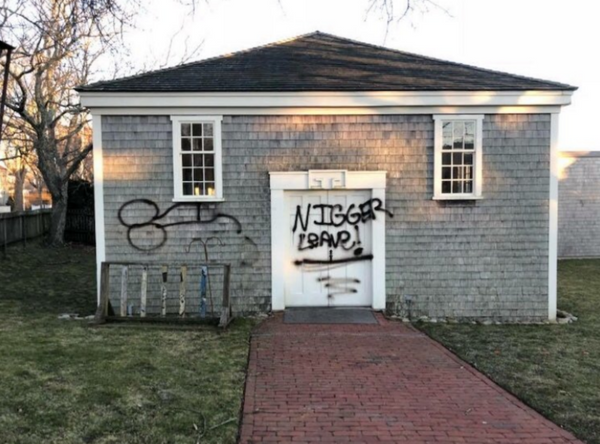 African Meeting House in Nantucket, Massachusetts gets spray painted with racial and lewd slurs.
"It is believed at this time that the incident occurred between the hours of 4:00 p.m. on Saturday and 6:45 a.m. Sunday," the statement noted. "Officers are conducting a canvas of the neighborhood in an effort to determine if anyone saw or heard anything unusual overnight."
"This building dates back to 1827 and has touched the lives of escaped slaves, Native Americans, Cape Verdeans, Quakers, educators and abolitionists over its history. This senseless act is not only a senseless crime but an attack on the rich history of this very community," it added.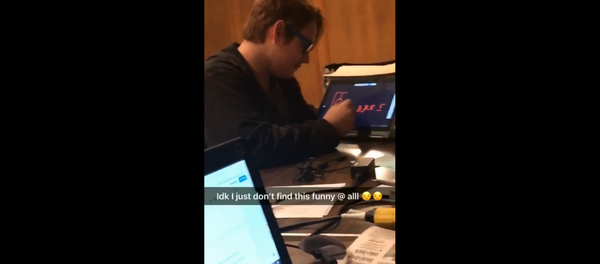 1 December 2017, 20:01 GMT
"Crimes such as this are not what Nantucket is about. Nantucket is known for its diverse population and celebrates the diversity of cultures that make up this island community."
The building, which was a school house, church and meeting house when the island was segregated, became a museum in 1999.
"I broke down, I was hysterical. I cried," Charity-Grace Mofsen, director of the African Meeting House, told the Inquirer and Mirror before adding that her emotions quickly changed when she witnessed the outpouring of support from the community.
"We have people coming together when they see that something is wrong and hateful, we get together and say 'this is not what we stand for, this is not what our island is about,'" Mofsen told the outlet. "I think it is good to see people come out and show their support."
Though members of the Nantucket community were able to wash most of the racist and lewd marks off of the building, Boston's Museum of African American History said on Monday that its efforts to remove the graffiti are still ongoing.
​Since the incident, state officials such as US Senator Ed Markey and the district's state senator, Julian Cyr, have expressed disgust at the matter.
"Take a good look. This isn't some far off place — this is racist terror in my district," Cyr said in a statement. "Nantucket woke up this morning to its African Meeting House attacked in the most vile and heinous of ways."
Mirroring Cyr's remarks, Markey said the incident is "as vile as it is cowardly."

18 December 2017, 21:25 GMT
Though officials have not detained any suspects, Nantucket's police chief, William Pittman, suggested to the Boston Globe that the vandal could have been a local teen, a drunken resident on their way home from a nearby club or even a college student on break.
"My first impression of that is… we're dealing with somebody who is obviously very immature," Pittman told the publication. "It's probably more mischievous than it is sinister, but their choice of location couldn't have been worse."
In addition to speaking with locals, the police department has also set up a hotline for residents with knowledge of the incident who wish to remain anonymous.