Moscow will respond to London on the poisoning of former officer of Russia's Main Intelligence Directorate (GRU) Skripal within 10 days after receiving an official request from the United Kingdom, the Russian foreign minister said.
According to Lavrov, Russia received no official request from London so far. He added that Russia had no motives to poison the former intelligence officer.

"There is only regress, we see no progress," Lavrov said when asked whether there was any progress in London providing a sample of the substance used to poison Skripal to Russia.
He went on to say that Russia and the United Kingdom have to hold consultations on the Skripal case, strssing that this is obligatory.
Kremlin on UK's Actions Regarding Russian Media
"Any illegal actions against any Russian news outlet in the UK will lead to a response on the principle of reciprocity," Kremlin spokesman Dmitry Peskov said on Wednesday, adding that those will be steps that are consistent with Russia's interests.
The UK's Office of Communications (Ofcom) sent a letter to RT broadcaster on Tuesday stating it would review the news outlet's license in Britain if Russia was found to be engaged in the poisoning of former Russian spy Sergei Skripal. Ofcom pledged to carry out an "independent fit and a proper assessment" and decide whether RT should operate in Britain.
The Ofcom's letter prompted harsh criticism from Russian Foreign Ministry spokeswoman Maria Zakharova, who on Tuesday said "no British mass media outlet will be allowed to work in Russia if the UK authorities close RT."
READ MORE: Excerpts From Law Targeting Sputnik, RT Published in France — Reports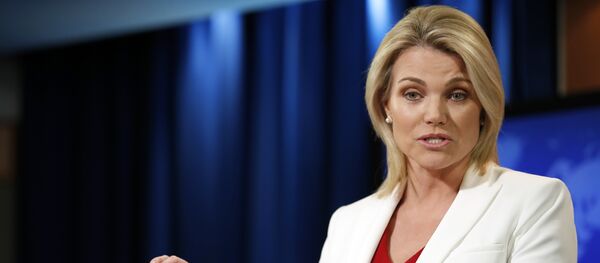 23 February 2018, 04:01 GMT
Theresa May
addressed
 parliament on the issue of the so-called Skripal case — the poisoning of Sergei Skripal, a former officer of Russia's Main Intelligence Directorate (GRU), as well as his daughter in the London suburb. In her speech, May claimed Moscow was "highly likely" to be responsible for the incident and said "extensive further measures" against Moscow would be announced later in the week.
On the same day, Labour MP Chris Bryan on Monday to prevent the Russian broadcaster from working in the UK, with Prime Minister Theresa May promising to keep lawmakers updated on the fate of the Russian media outlet.
READ MORE: UK Media Compete to Think Up Most Menacing Response to Russian Spy's Poisoning
Moscow has sent a note to the UK Foreign Office denying involvement in the poisoning. Russian Foreign Minister Sergey Lavrov has also announced Russia had officially requested samples of the suspicious substance and access to all the documents regarding the case, stressing that Skripal's daughter, Yulia, was a Russian citizen, but the UK had turned down the request.
The Skripal scandal is developing amid consistently growing pressure on Russian media outlets in Europe and the US. The European Parliament has labeled RT and Sputnik tools of the warfare the Russian government wages against the Western states. US authorities have also forced RT to register as foreign agent.