Officials with the US Marines have requested that the unmanned aircraft have the ability to carry internal and external payloads of 9,500 pounds, fly a radius of 700 nautical miles, provide offensive air support and be able to take off and land vertically, according to Military.com.
Some of the weapons that officials have requested MUX be able to carry include AGM-114 Hellfire air-to-surface missiles, AIM-9X air-to-air missiles, AGM-88E advanced anti-radiation guided missiles, an advanced precision kill weapon system laser-guided rocket and a smaller, expendable unmanned aerial vehicle that can be launched mid-flight and used as an early warning system or for electronic warfare.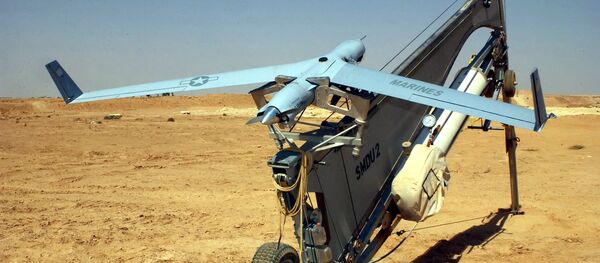 In June 2016, Lt. Gen. Jon Davis, then head of Marine Corps aviation, told Military.com that claims suggesting the Marine Corps was asking for too much from the program were out of order and that its past successes showed that the MUX was still viable.
"V-22: impossible? Nope. F-35B: impossible? Nope. Very possible, very doable, very good," Davis said. "Bottom line: the engineering — this is not a pie in the sky. This is very doable."
The massive drone would be used for missions such as early warning; intelligence, surveillance and reconnaissance; electronic warfare and communications relay.
The specifications also detailed that the Marines want an early land-based version of the system by 2025 and a sea-based vertical take-off and landing type by 2028. A fully operational aircraft is expected by 2034.
Companies interested in participating in the MUX program include Bell, Piasecki Aircraft, ARES and Boeing, Lockheed Martin and Northrop Grumman.