Secretary of State Rex Tillerson's ouster and his replacement with former CIA director Mike Pompeo will undoubtedly affect US foreign policy in Middle East, analysts told Sputnik.
"Through this reshuffle Donald Trump wants to bring together a team of people who believe in American values," Washington-based political scientist Atef Abdel Jawad told Sputnik Arabic. "I think that the former head of the CIA, Mike Pompeo, will continue to act in a manner of the head of an intelligence service i.e. as clandestine and secret as possible. So, we should prepare ourselves for a lot of surprises during his tenure [as a secretary of state]."

For his part, Husein Ruoran, an academic specializing in political science at the University of Tehran, has drawn attention to the fact that the nuclear agreement between the US and Tehran is hanging in the balance due to Trump surrounding himself with military officials.
"One may talk about the threat of the US' withdrawal from the nuclear agreement, not about the deal's [potential] abolition. Therefore, the situation around Iran may unfold in different ways," Ruoran suggested.
It was earlier reported that Trump fired Tillerson over their disagreement on the Iran issue in particular.
"We got along actually quite well, but we disagreed on things. When you look at the Iran deal, I think it's terrible, I guess he thinks it was okay," Trump said. "We wanted to either break it or do something and he felt a little bit differently. So we were not really thinking the same."
In contrast, Pompeo has always been rather tough on Tehran. Furthermore, the private intelligence firm Soufan Group predicts that the new secretary of state may jeopardize the Iran nuclear deal, also known as the Joint Comprehensive Plan of Action (JCPOA).
"Pompeo is a vocal critic of the JCPOA and his confirmation likely will spell the end of the agreement," the intelligence firm's report said.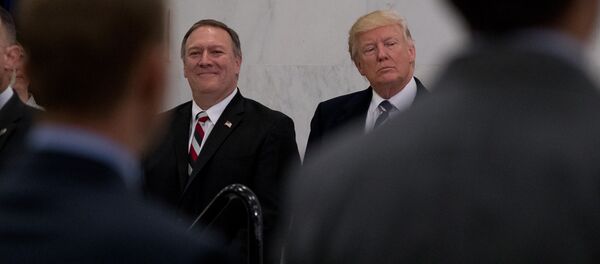 As for the Qatari diplomatic crisis, Pompeo's selection is unlikely to ease tensions simmering around Doha, Ali al-Heil, a professor of political science at Qatar University, opined.
"[Arab countries] that imposed the blockade on Qatar hail the appointment of Mike Pompeo. They thought that Tillerson was on Qatar's side," al-Heil underscored.
On June 5, 2017 Saudi Arabia, the United Arab Emirates, Bahrain and Egypt severed diplomatic relations with Doha, imposing political and economic restrictions on the kingdom over its alleged collusion with Islamist terrorists.
The move was hailed by Trump, who tweeted the next day: "During my recent trip to the Middle East I stated that there can no longer be funding of Radical Ideology. Leaders pointed to Qatar — look!"
During my recent trip to the Middle East I stated that there can no longer be funding of Radical Ideology. Leaders pointed to Qatar — look!

— Donald J. Trump (@realDonaldTrump) 6 июня 2017 г.
​Observers agree that Pompeo's appointment may spell trouble for Doha.
"Qatar is in trouble now; they're going to have to give up something. Doha may have overplayed its hand by relying too much on Tillerson," Theodore Karasik, an analyst with the consulting firm Gulf State Analytics told Al-Monitor on Wednesday.
Meanwhile, according to The Washington Post, Trump is due to meet with the leaders of Saudi Arabia, the United Arab Emirates and Qatar starting Monday to discuss regional issues concerning Iran, Syria and the Israeli-Palestinian conflict. The media outlet added that the Trump administration is looking forward to bringing the Persian Gulf leaders together in Washington in May in an attempt to settle the row engulfing the region.
The views and opinions expressed by the contributors do not necessarily reflect those of Sputnik.