"The Russia-proposed March 14 project of a short and fact-based UNSC press statement calling for an urgent and civilized investigation into a resonant chemical incident in Britain in line with OPCW standards was crudely blocked by this country's representatives under a politicized pretext," Fedor Strzhizhovskiy said.
Earlier in the day, Russian Ambassador to the UN Vasily Nebenzya called the UK's allegations that Moscow was responsible "completely unacceptable" and demanded to see material proof of the accusations.
"The Russian Federation thinks it is completely unacceptable to launch unjustified accusations as contained in the letter from [UK Prime Minister] Theresa May dated 13 March to the secretary-general of the United Nations," Nebenzya said. "We demand that material proof be provided of the allegedly found Russian trace in this high-resonance event. Without this, stating that there is incontrovertible truth is not something that we can take into account."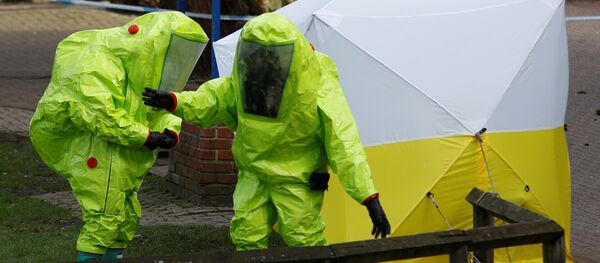 He went on to say that the nerve agent that poisoned Skripal could have come from the UK, and called for the UN to unseal the contents of the meeting to the public. "We have nothing to fear, nothing to hide," he remarked.
However, the UK is not obliged to provide samples of the substance collected in the probe into the poisoning of former Russian intelligence officer Sergei Skripal, Deputy UK Envoy to the UN Jonathan Allen told the Security Council.
"The Russian colleagues talked about samples, but again this is a misunderstanding of the convention," Allen said on Wednesday. "There are no provisions in the convention which require the UK to share samples collected as part of a criminal investigation."
Russian officials have rejected London's claims that Moscow was in any way involved in the incident. Foreign Minister Sergey Lavrov has stressed that Russia was ready to cooperate on the investigation but needed to have access to the case materials, including samples of the substance in question.