According to Bill Ayers, an activist and educator and author of the book "Demand the Impossible: A Radical Manifesto," the student-driven protests in Chicago "go far beyond gun control." There, students used the nationwide attention triggered by Parkland to promote a comprehensive movement to increase job opportunities, establish mental health facilities and provide drug treatment to students across Chicago. 
"The most important thing is that the students mobilized themselves. They were met by what you always meet against when you struggle against power. In a lot of places in the Chicago suburbs, students have been given massive detentions," Ayers told Radio Sputnik's Loud & Clear.
More than 1,000 students from Downers Grove North and Downers Grove South high schools in Chicago will face various disciplinary actions for violating school policy and joining the nationwide school walkout, NBC Chicago reported.
However, according to Community High School District 99 spokesperson Jill Browning, students facing disciplinary action for protesting consider the detentions "a 'badge of honor' and a symbol they truly are protesting and standing up for their rights at a personal cost," Mercury News reported. District 99 serves Downers Grove, Woodridge, Westmont, Darien, Lisle, Bolingbrook and Oak Brook in the state of Illinois.
"I think the young people have done something extraordinary and I hope this is a moment of real learning for them on what they're up against when they stand up to power," Ayers told hosts John Kiriakou and Brian Becker.
"Their demands go far beyond gun control," he noted.
"This didn't come out of the blue. These students are coming out of the context of the Black Lives Matter movement. In Chicago, young people have created a context where Black Lives Matter is not just a movement against police violence and brutality. It is a movement for decent schools, to establish mental health facilities and to abolish the police academy," Ayers explained, referring to Chicago Mayor Rahm Emanuel's recent decision to open a $95 million police training academy on the West Side of Chicago.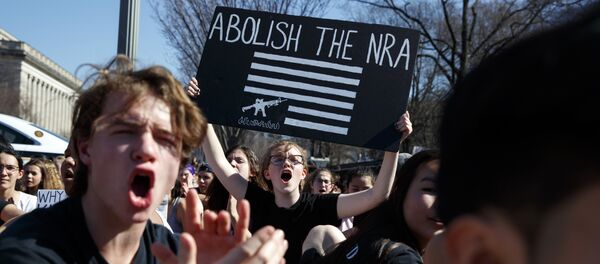 21 February 2018, 19:02 GMT
Many students support the #NoCopAcademy movement in Chicago, calling for the money allocated for the police academy to instead be spent on community investment and resources for young people. Last month, the Chicago Board of Education unanimously voted to shut down four schools in the city's Englewood neighborhood, which are predominantly schools with black and brown students, following a mass closure of 50 public schools in 2013.
Students in Chicago are no strangers to street brutality, having been faced with gun violence for years.
"We want gun control. We don't necessarily want to ban guns, we just want more control, more regulations. Because if we can't have those regulations and anyone can get guns, then nobody's safe. We need to be in school, we need to be safe," Amal Salem, an 18-year-old senior at John Hancock College Prep High School in Chicago, told the Chicago Sun Times last week during the walkout.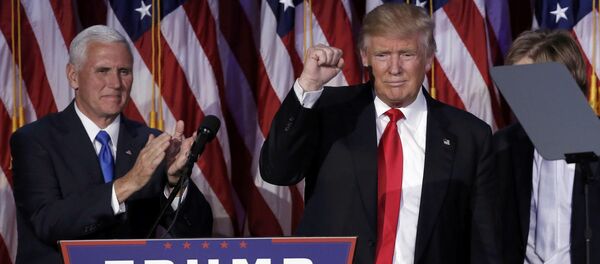 9 November 2016, 21:22 GMT
"If y'all are really mad, you won't only stop here today. After this, you will go home, you will vote, you will tell your parents what's going on… We've been dying in these streets forever. These kids in Florida, they get shot and we can relate to them so easily," Hancock student Mia Rouse said.
"And the fact that we can relate to them so easily, it's just heartbreaking. It's heartbreaking. The fact that we have to be here, the fact that black kids have been dying in these streets day after day, scared to go to school, scared to come home because they might get shot, that's heartbreaking," she added.
During the walkout, senior Henry Schellinger of Chicago High School for Arts told the Chicago Reader that gun violence disproportionately impacts people of color.
"We can't continue to criminalize black and brown youth," Schellinger said. "These children were killed and we cannot keep letting this happen."
"Chicago has a lot of stuff going on and we need to zero in on that," added student Damayanti Wallace. "Like with [Chicago Mayor] Rahm [Emanuel] doing a $95 million cop academy, with our inner city gun violence, with schools closing, with us not having enough trauma centers. This is what the walkout was for."