"There is a possibility that terrorists will use poisonous substances in order to accuse the Syrian troops of using chemical weapons in the future," Russian Defense Minister Shoigu said, adding that three attempts over the past week had been stopped.
Shoigu has expressed hope that the Western states will stop supporting militants and join Russia in its efforts to resolve the situation in Syrian peacefully.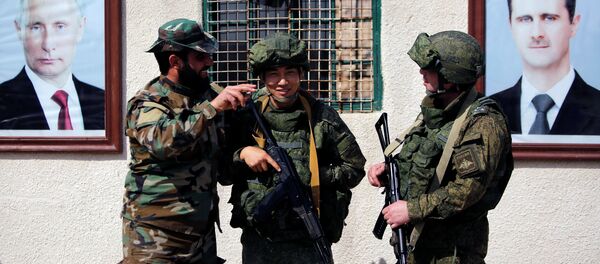 Amid the media reports stating that the Syrian military was using chemical weapons, Eastern Ghouta residents who left the region on March 15 stated that they
had not seen
any signs of the use of chemical weapons.
Alexander Shulgin, Russia's permanent representative to the Organisation for the Prohibition of Chemical Weapons (OPCW), said last week that Russia was recording repeat cases of the use of chemical weapons in conflict zones, including their use by militants in Syria.
The situation in East Ghouta has Stabilized
Speaking at a Russian Defense Ministry meeting, Shoigu said that more than 65 percent of the territory of East Ghouta has been liberated so far.
"Currently, under the leadership of the Russian Reconciliation Center, an unprecedented humanitarian operation is being conducted in Eastern Ghouta. Over the last 5 days, 79,655 people have been evacuated via the humanitarian corridors," he said.
​He added that the Russian military aims to provide for the safe exit of civilians from the besieged areas as well as the delivery of humanitarian aid. Some 427 metric tons of humanitarian aid has been delivered to East Ghouta, including hot meals and drinking water.
"Despite attempts by militants to disrupt peace initiatives in East Ghouta, we are negotiating with the leaders of the armed groups in order to stop fighting and prevent a humanitarian disaster," the minister added.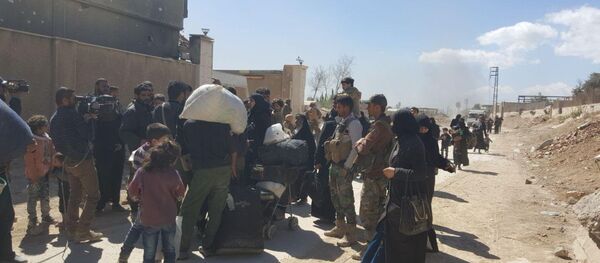 The tensions in Eastern Ghouta have been running high in the past weeks despite the ceasefire that has been in place since late February. The militants shelled Damascus neighborhoods and opened fire at the Syrian pro-government forces. The Syrian government says it fired in retaliation, but the Western countries are accusing the Syrian government and Russia of being responsible for the escalation of tensions in the area.
Russia has announced a daily five-hour humanitarian break in the fighting to prevent casualties among the population and to let civilians leave Eastern Ghouta.