According to the report, Daniels took the test as part of a deal to sell her story to Bauer Publishing for $15,000. The publisher, however, never released her story after Michael Cohen, Trump's personal lawyer, reportedly threatened to sue. Daniels' tell-all was also shelved due to a lack of other proof.
​A summary of the polygraph test shows that Daniels, whose real name is Stephanie Cliffords, was deemed "truthful" when asked if she had unprotected, vaginal sex with 45 in July 2006. Her response was marked inconclusive when it came to whether or not Trump offered her a spot on "The Apprentice," though. The test was conducted by Ronald Slay, an examiner with Western Security Consultants in Las Vegas.
The polygraph report also included a sworn declaration from Slay acknowledging the test's authenticity.
Prior to the publication of the lie detector results, Michael Avenatti, Daniels' lawyer, tweeted that there is video footage of the test. He reportedly paid a sum of $25,000 for the rights to the video, the Huffington Post reported.
​Daniels is currently in a legal battle to void the non-disclosure agreement (NDA) she signed in 2016 in exchange for $130,000. The 39-year-old is arguing that the hush agreement is void because Trump did not actually sign it.
Daniels isn't the only one trying to get out of a hush agreement with 45 these days.
Karen McDougal, a former Playboy model that Trump allegedly also had an affair with in 2006, filed a lawsuit Tuesday in the hopes of being let out of an agreement that forbids her, too, from talking publicly about her affair with Trump. McDougal is suing American Media Inc., which paid the model $150,000 for exclusive rights to her sexcapades with POTUS.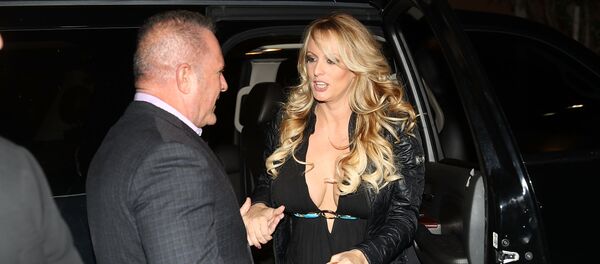 The Wall Street Journal previously reported that McDougal's agreement with the publisher was part of a "catch and kill" tactic to ensure her story was never going to make it to print. According to the outlet, this tactic was used often by David Pecker, the CEO and chairman of AMI and friend of Trump, to kill stories detailing Trump's alleged affairs.
"The lawsuit filed today aims to restore her right to her own voice," Peter Stris, McDougal's lawyer, told The New York Times. "We intend to invalidate the so-called contract that American Media, Inc. imposed on Karen so she can move forward with the private life she deserves."
The White House has repeatedly denied both relationships ever took place.