Combatants from the towns of Zamalka, Jobar, Arbin and Ein Tarma have agreed to evacuate, according to reports by Syrian State media on Friday. The militants will be transferred to Idlib province along with their family members.
Specific details about the transfer are yet to be released.
​Troops from the Syrian Army will subsequently begin securing the areas and are likely to deploy sappers to conduct demining operations, probably with assistance from Russia. 
This latest transfer agreement comes just off the back of an earlier deal where militants in the Damascus suburb of Harasta also agreed to be bused off to Idlib.
Once they were evacuated from Harasta, the militants detonated an ammunition depot, injuring four volunteers from the Syrian Arab Red Crescent (SARC), according to the Syrian Arab News Agency (SANA.) 
READ MORE: Two Killed, Nine Injured in 'Cluster Bomb' Terror Attack on Syria's Damascus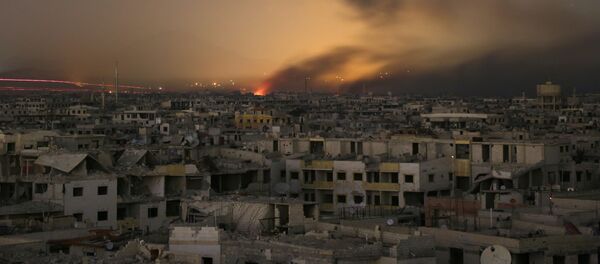 Militants have used East Ghouta as a launchpad to fire mortars and improvised rockets to government-held parts of Damascus, killing and injuring hundreds of civilians in recent weeks. 
Once the Syrian Army takes control of the aforementioned towns, it will be in control of over 80 percent of the East Ghouta region, and is poised to liberate the remaining areas over the coming weeks, or potentially sooner if surrender, reconciliation or transfer deals are swiftly negotiated.