The tweet, which includes an image of a CD inside of a safe, is captioned, "If 'a picture is worth a thousands words,' how many words is this worth????? #60minutes #pleasedenyit #basta"
​Though Avenatti opted for a bit of mystery in his tweet, many have interpreted it to mean the compact disc contains photos or even video footage that prove Daniels' 2006 fling with Trump did take place.
Responding to a slew of questions from netizens early Friday, Avenatti rejected the notion that the disc contained footage of the lie detector test on the subject Daniels passed and urged users to watch the now much-anticipated "60 Minutes" interview.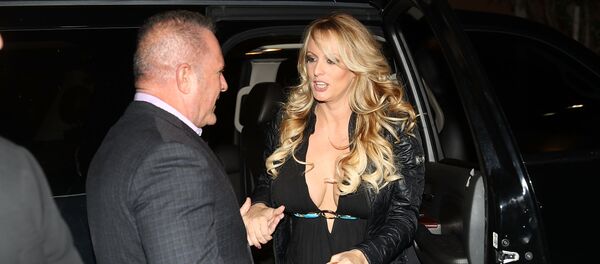 Avenatti had previously shared a screenshot of Daniels hooked up to a lie detector test that she took in 2011 as part of a deal to sell her story to Bauer Publishing for $15,000. According to reports, Avenatti paid a whopping $25,000 for the video.
Daniels has not released a statement shedding more light on Avenatti's tweet.
The 39-year-old actress is currently in a legal battle to void the nondisclosure agreement she signed in 2016 that keeps her from talking about the alleged relationship with Trump in exchange for $130,000. As Sputnik previously reported, Daniels claims that the agreement is void because 45 did not sign it.
The White House has repeatedly denied that the relationship with Daniels ever happened.