"We need to be sure that Russian spies expelled from one country, will be denied access to any other countries," UK Foreign Secretary Boris Johnson alleged, commenting on the expulsion of Russian diplomats by some 20 EU members, as well as the US, Canada and several other UK allies.
"We need to make it easier for our security agencies to make it easier to persecute such people," he added.
"The UK may be leaving the EU, but we're not leaving Europe," Boris Johnson claimed, when lauding the bloc's support for London's stance concerning the Skripal case.
When asked about possible financial measures against Moscow, Johnson stated that those, whose "assets may be corrupted or illegally obtained," may be affected by restrictions, he said, emphasizing that it is not a "politicial" issue.
READ MORE: Boris Johnson Slams Moscow's Response to Expulsion of Russian Diplomats From UK
"We are waiting for the investigation to be concluded," the UK foreign secretary stressed.
According to Boris Johnson, "the Russian people" are not targeted by London's measures against Moscow.
Commenting on the US expulsion of 60 Russian diplomats, Johnson referred to it as a "considerable" measure.
"There are no plans to boycott the World Cup, there is no desire to punish English fans," Johnson said, commenting on the diplomatic boycott of the upcoming 2018 FIFA Cup in Russia.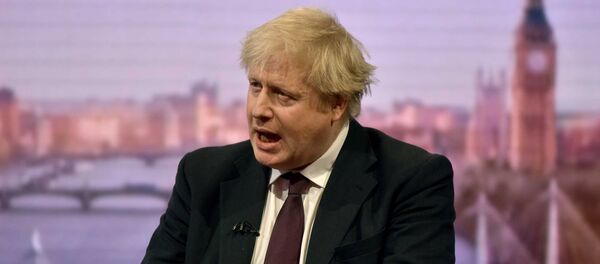 Johnson has declined to answer a question about possible measures against the Russian Nord Stream 2 gas pipeline to Europe as it allegedly poses a "risk" for the EU energy security, saying that the issue is being considered.
After some 20 EU members, as well as the US, Canada, Australia and several other London's allies had announced the expulsion of a total of 100 Russian diplomats in solidarity with London's stance on Skripal's poisoning, Moscow has slammed the move as unhelpful in the probe into the alleged "attack" and vowed response.
Earlier in the day, in an article for BBC, Johnson claimed that the UK "allies" that had decided to expel Russian diplomats have now been allegedly under "threat" from Moscow.
Following the Salisbury poisoning incident, UK Prime Minister Theresa May accused Russia of orchestrating an attack on Skripal, and expelled 23 Russian diplomats as a punitive measure.
Russia has strongly rejected the accusations and offered to help in the investigation. However, Moscow's request for samples of the chemical substance used to poison Skripal was denied. Moscow expelled UK diplomats in response and ordered the British Council to cease its activities in Russia.