It would be unwise to underestimate China's economic might, Li Kai, a researcher at Shanxi University of Finance and Economics (SXUFE), told Sputnik China, commenting on the looming trade war between Washington and Beijing.
"Positions of the US, especially the Trump team, are really strong; they do not fear to damage themselves," Li opined. "[However], the US trade deficit with China remains huge for a long time and this must be taken into account. In response to the US' latest anti-Chinese measures, [Beijing] has taken countermeasures, but they are rather soft so far."
The researcher explained that China has many options to normalize the situation and reduce Washington's discontent over the US-Chinese trade deficit. However, that does not mean that China is weak: Beijing has enough capabilities and economic strength to respond to Washington.
"[Still] China acts according to the situation. This approach indicates the wisdom of President Xi Jinping's team," Li underscored.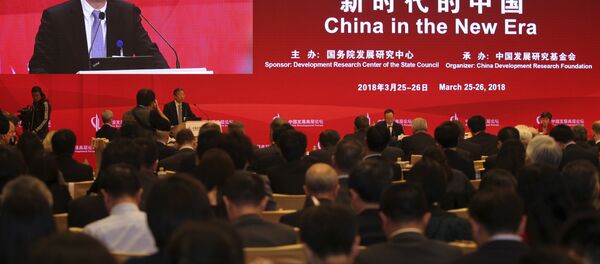 Placing the emphasis on the US-Chinese economic controversy, US President Donald Trump does not want to deteriorate relations between Washington and Beijing, the researcher believes, stressing that the two sides need to solve the dispute at the negotiating table.
Alexander Salitsky, an analyst at the Institute of World Economy and International Relations of the Russian Academy of Sciences, suggested that China won't tolerate Trump's recent measure that envisages the imposition of $60 billion in extra tariffs on Beijing over allegations of intellectual theft and has already launched counter-offensive.
"Almost all observers name the Boeing Company as the main possible victim," Salitsky said. "It has quite serious plans in the Chinese market. It is going to sell almost a trillion dollars' worth of planes to China in the next few years. The Chinese can switch to Airbus, Boeing's competitor. American companies producing solar batteries will also turn out to be losers in the trade war, as they are cooperating closely with Chinese companies, which were subjected to additional import tariffs."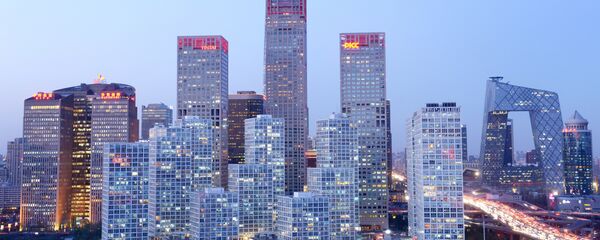 The Russian analyst expressed doubts regarding the recent statement by US Treasury Secretary Steven Mnuchin that the US does not fear a potential trade war with China. Salitsky highlighted that in this case Washington would have never sent a letter to China offering to increase the import of US cars and semiconductors and expand US companies' access to China's financial sector.
Although the US' current economic situation is "good," a possible trade war with China will deal a heavy blow to the Americans and the world economy in general, the analyst warned.
In the fourth quarter of 2017, China accounted for 20 percent of the US company Apple's revenue and 13 percent of Boeing's annual sales. Intel, Qualcomm, Texas Instruments and Micron Technology's revenues are also highly dependent on sales in China, Salitsky underscored.

He suggested that the recent sudden drop in the US stock market could be triggered by the threat of a US-China trade war which could hinder the growth of the American economy. Additionally, it can affect Trump's aspirations for re-election in 2020. Salitsky explained that 425 out of 535 districts in the US are involved in close trade and investment cooperation with China.
Meanwhile, Yi Gang, the governor of the People's Bank of China since 2018, ruled out financial risks for Beijing in the event of a trade war with Washington.
Yi underscored that China's financial system will withstand any external shocks, especially when the size of the Chinese portfolio of US debt bonds exceeds a trillion dollars. The question then arises whether Yi meant that Beijing may use US debt bonds as a powerful "weapon" in a trade war with Washington, dealing a devastating retaliatory strike to America's economy.
Following the imposition of restrictions on imports of solar cells and washing machines from China and South Korea and additional trade tariffs on aluminum and steel imports, Trump continued to crack down on the Chinese economic sector.
China's response was not long in coming: "If the United States takes actions that harm China's interests, China will have to take measures to firmly protect our legitimate rights," Chinese foreign ministry spokesman Lu Kang said in an official statement in mid-March.
China's commerce ministry then listed 128 American products worth $3 billion that could be subjected to Beijing's new tariffs.
"If a trade war were initiated by the US, China would fight to the end to defend its own legitimate interests with all necessary measures," the Chinese Embassy in the US said in a statement on March 23.
The views and opinions expressed here are those of the speakers and do not necessarily reflect those of Sputnik.