Prominent Republican fundraiser Elliott Broidy, who serves as the deputy finance chairman of the Republican National Committee (RNC), filed a lawsuit against Qatar on Monday, claiming its government doctored and leaked a number of his emails to smear him.
He alleged that the emails – some of which contained confidential documents – were hacked, edited and leaked by Qatari authorities in retaliation to his pro-Saudi stance in the diplomatic crisis and his efforts to sway the Trump administration in favor of Qatar's regional foes.
"We believe the evidence is clear that a nation state is waging a sophisticated disinformation campaign against me in order to silence me," Mr. Broidy said in a statement.
The filed lawsuit also claims his wife's email accounts were hacked and leaked to the media to cause reputational damage.
Qatar has already responded to the lawsuit, with a spokesman at the embassy in Washington insisting that the lawsuit is an attempt by the Republican fundraiser to "divert attention from media scrutiny on his activities."
"It is Mr. Broidy, not Qatar, who orchestrated nefarious activities designed to influence Congress and American foreign policy," Spokesman Jassim Al-Thani said.
According to reports, a number of officials from the Trump administration played a role in the severing of diplomatic ties between Doha and the Saudi-led bloc. Jared Kushner, the son-in-law of US President Donald Trump, allegedly took an aggressive stance against Qatar to punish its government for not investing in a real estate venture of his.  
READ MORE: Mueller Team Probes Jared Kushner's Foreign Business Ties — Reports
The ongoing diplomatic standoff has seen Qatar improve ties with Iran, and significantly increase military cooperation with Turkey.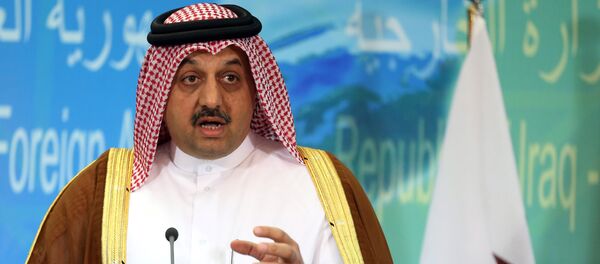 Doha has also ramped up defense spending to bolster its military capabilities, potentially to deter any aggression by Saudi Arabia or the other sanctioning countries, which include the United Arab Emirates (UAE) and Egypt.
Kuwait has attempted to mediate, but talks have yielded little progress and there is no indication the crisis will be ending anytime soon.
Qatari officials have repeatedly denied of funding terrorist groups, and have refused to give in to the demands of the Saudi-led bloc, which include the closure of the state-backed Al Jazeera news agency.