The British ambassador to Austria repeatedly expressed a demarche to Vienna because of the Austrian side's refusal to expel Russian diplomats in connection with the Skripal poisoning, the Die Presse newspaper reported, citing Austrian Foreign Minister Karin Kneissl.
The minister confirmed that the British ambassador for the first time expressed a demarche before the EU summit on Wednesday "to force us to take concrete measures," then on Saturday he reiterated his call.
READ MORE: EU Statement on Skripal Case Speculative and Unsubstantiated — Moscow
According to the minister, Vienna's decision not to expel diplomats is not prompted by fears about possible Russian countermeasures.
"This has never been the object of our attention in the decision making process in the Foreign Ministry and when coordinating actions with the Federal Chancellor," Kneissl stressed.
According to the minister, Austria's decision demonstrated a principled stance of the country, which extremely rarely uses the tool of diplomatic expulsion and is going to continue to adhere to this tradition.
"In such a critical moment channels should stay open," Kneissl said, citing the example of the breakdown of US-Iran ties in 1980, which demonstrated that both countries suffered from this decision.
On March 23, Austrian Chancellor Sebastian Kurz stated that Vienna would not expel Russian diplomats over the Skripal case, because Austria wants to preserve channels for dialogue with Russia.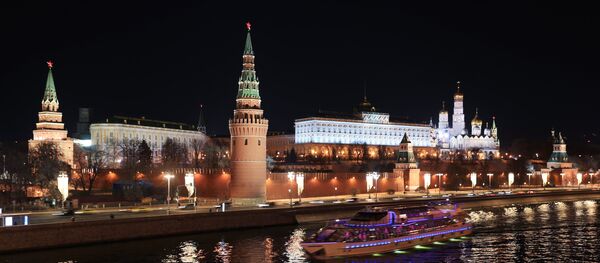 After the mass expulsion of Russian diplomats by the countries of Europe, the US, Canada and Australia, Kurz reiterated his stance, whereas the Austrian foreign minister stated that the UK and the Organization for the Prohibition of Chemical Weapons (OPCW) had not yet provided substantial evidence of Russia's involvement in the Skripals' poisoning and thus Austria adhered to the refusal to remove Russian diplomats.
Sergei Skripal, a former GRU colonel who also worked for UK intelligence, and his daughter Yulia have been in hospital in critical condition since March 4. London believes that the Skripals were exposed to an A-234 nerve agent. UK Prime Minister Theresa May has accused Russia of orchestrating the attack and expelled 23 Russian diplomats, while the European Union has expressed its solidarity with London. More than 25 countries, including the United States and EU member states, have expelled over 150 Russian diplomats in connection with the Salisbury incident so far.
READ MORE: Trump: Looks Like Russia Behind Skripal's Poisoning in UK
Russia, in turn, has strongly rejected the accusations and offered assistance in the investigation. However, Moscow's request for samples of the chemical substance used to poison Skripal has been rejected. In response, Moscow expelled UK diplomats and ordered the British Council to cease its activities in Russia.
© Sputnik
Countries that have expelled Russian diplomats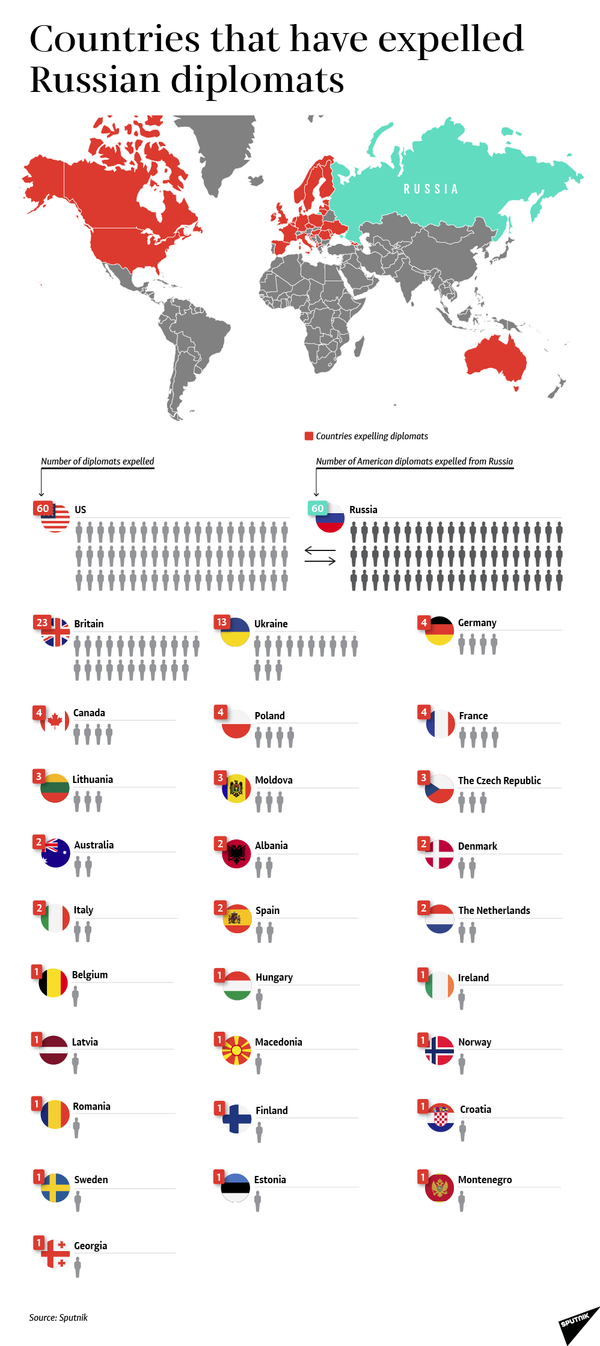 Countries that have expelled Russian diplomats