Moscow has called on Palestinians and Israelis to exercise restraint in wake of reports that the number of those killed in the Gaza clashes is continuously rising, the Russian Foreign Ministry said in on its website. The statement was made following a meeting between Russian Deputy Foreign Minister Mikhail Bogdanov and senior member of Hamas, Mousa Mohammed Abu Marzook.
"A deep concern was expressed on the part of the Russian side amid the reports of the growing death toll in the Gaza Strip as a result of the Israeli army's measures to curb Palestinian protests that began on March 30 as part of the 'March of Return' campaign," the ministry stated, commenting on the meeting.
READ MORE: Palestine Surprised by Israel's Concerns Over Protesting Palestinians — Diplomat
The two sides exchanged opinions on the Israeli-Palestinian conflict, stressing the necessity to reach an intra-Palestinian peace as soon as possible.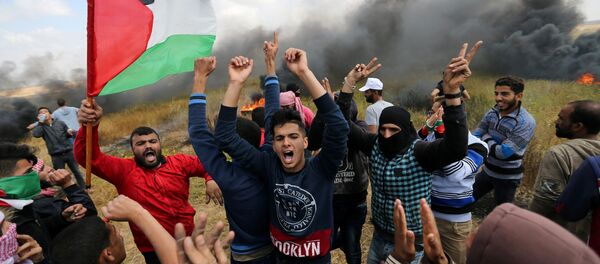 "The restoration of genuine Palestinian unity should also have a positive impact on the socio-economic and humanitarian situation in the Gaza Strip," the ministry added, referring to the split between rival Palestinian groups — Fatah and Hamas — that have long been at odds over the control of the Palestinian territories.
Meanwhile, the rally called "March of Return," dedicated to the so-called Land Day, commemorating the day in 1976 when Israeli troops killed six Arabs protesting against the confiscation of land, kicked off on March 30 on the Gaza Strip border.
​​The protests, which are set to be held until May 15, have devolved into violent clashes, with at least 14 Palestinians being killed and more than a thousand injured. Representatives of the Israeli Defense Forces said that they have been authorized to use force against the demonstrators.