The Korean Central News Agency has omitted the North Korean leader Kim Jong-un's statements about possibly dismantling his country's nuclear arsenal, which he made during his visit to the Chinese capital, according to media reports.
"It is our consistent stand to be committed to denuclearization on the peninsula, in accordance with the will of late President Kim Il Sung and late General Secretary Kim Jong Il," Chinese news agency Xinhua quoted Kim as saying during his recent meeting with China's President Xi Jinping in Beijing.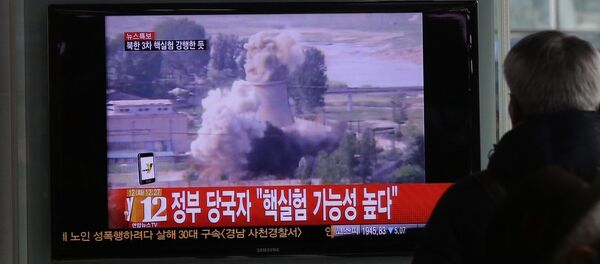 The Chinese leader added in turn that "China sticks to the goal of denuclearization of the peninsula, safeguarding peace and stability on the peninsula and solving problems through dialogue and consultation."
Earlier Cheong Seong-chang, head of the Department of Unification Strategy Studies at the Sejong Institute, told Sputnik that the denuclearization of Korea was definitely on top of the North Korean and Chinese leaders' agenda during their meeting.
"If the North Koreans did not espouse their readiness for denuclearization, China's Chairman Xi Jinping would've had no reason to agree to the summit. Most likely the DPRK presented its official stance on denuclearization," the pundit explained.
READ MORE: Nukes and Peace: What Was N Korea's Kim Doing in China
North Korean leader Kim Jong-un visited Beijing on Tuesday, March 27, arriving onboard a special armored train amid heavy security precautions to meet with his Chinese counterpart Xi Jinping.
US President Donald Trump tweeted that he looks forward to his upcoming meeting with Kim Jong-un, adding, however, that "unfortunately, maximum sanctions and pressure must be maintained at all cost" in the meantime.