UK authorities have one month to reduce the number of staff at its embassy and consulate in Russia to that of Russia's diplomatic presence in the United Kingdom, according to the statement from the Russian Foreign Ministry. The Russian Embassy in London said that UK authorities are aware of what number the Russian Foreign Ministry was talking about without disclosing the exact figure. Later the source in the Russian Foreign Ministry specified that the UK diplomatic staff in Russia exceeds the number of Russian diplomats in Britain by over 50 people.
READ MORE: Ex-Russian FSB Agent Blasts UK PM May for 'Illiterate' Skripal Case Accusations
The statement also said that British ambassador to Moscow Laurie Bristow was summoned to the foreign ministry building and given a note of protest. The ministry added that Russia remained ready to cooperate with the United Kingdom on the investigation into the poisoning of former Russian spy Sergei Skripal either within the international legal framework or o the bilateral level.
The UK Foreign Office, in turn, expressed the regret over Moscow's steps but said that they had been anticipated.
"This doesn't change the facts of the matter: the attempted assassination of two people on British soil, for which there is no alternative conclusion other than that the Russian State was culpable. Russia is in flagrant breach of international law and the Chemical Weapons Convention and actions by countries around the world have demonstrated the depth of international concern," a Foreign Office spokeswoman said.
Bristow was one of the representatives of European countries that had been summoned to the Russian Foreign Ministry, along with the ambassadors of Italy, Poland, Netherlands, Albania, Romania, Ukraine, Czech Republic, Belgium, Latvia, Lithuania, Macedonia, Croatia, Sweden, Denmark and Greece. 
READ MORE: Russia Expels EU States' Diplomats in Tit-for-Tat Measures Amid Skripal Case
This comes after on Thursday Russian Minister of Foreign Affairs Sergei Lavrov promised to expel diplomats from those countries that had expelled Russian diplomats in a move of support for UK Prime Minister Theresa May's accusations regarding Moscow's involvement in the poisoning of ex-GRU officer Sergei Skripal. More than 20 countries have expelled over 150 Russian diplomats in solidarity with the UK.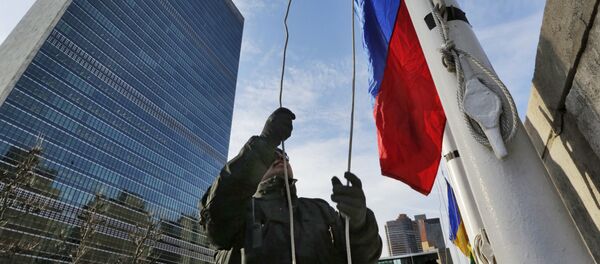 Skripal, a former Russian spy, remains in a hospital along with his daughter Yulia after being found unconscious on a bench in the city of Salisbury on March 4. UK authorities have claimed that the Skripals were poisoned by the A-234 nerve agent, which British experts have claimed is related to the Novichok-class nerve agents developed in the Soviet Union.
Moscow has repeatedly denied the "baseless" accusations and demanded access to the case's materials, including samples of the nerve gas, allegedly used to poison the Skripals. The request was denied by London.