The second day of clashes continues, as a mass protest along the Israeli border aimed at attracting attention to the problem of Palestinian refugees kicked off on Friday. The first day of protests left 15 Palestinians killed and over 1,500 injured.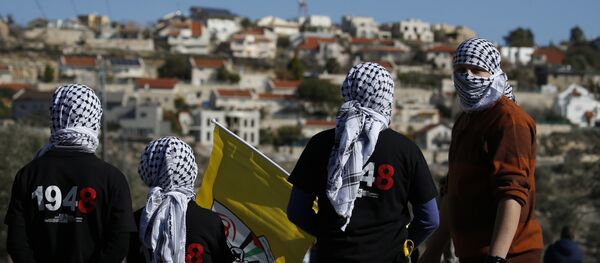 "The number of injured today amounts to 36 people. All the injuries caused by live fire," Kidra said.
Earlier in the day, Federica Mogherini, the EU foreign policy chief, urged the sides to avoid further escalation of tensions and called for a transparent investigation into the use of live ammunition by the Israeli forces.
Meanwhiel, Israeli Defense Forces (IDF) said Saturday that at least 10 known terrorists were among the Palestinians killed in Friday clashes amid mass rallies on the border between Israel and the Gaza Strip.
"At least 10 known terrorists with track records of terrorist activity were killed whilst carrying out acts of terror during the violent riots along the border between Israel and the Gaza Strip on Friday March 30, 2018," the IDF said on its Twitter account.
The Palestinian protest dubbed "The Great Return March" is dedicated to the so-called Land Day commemorating the day in 1976 when Israeli troops killed six Arabs protesting against confiscation of land. On May 15, Palestinians will commemorate the Nakba (disaster in Arabic), when hundreds of thousands of Palestinians were displaced after Israel announced its independence in 1948.